Classical News
In today's news the Royal Opera House has celebrated its 150th performance of Verdi's La Traviata and Katie Derham presents a special podcast about Donizetti's Poliuto, which will open the 2015 Glyndebourne Season. St John's Smith Square has announced the latest musicians to join its Young Artists' Scheme and the BBC have announced that they will be extending the Ten Pieces project to secondary schools.
Guardian
The Royal Opera's La Traviata celebrates 150 performances – watch two clips with a classic cast
Richard Eyre's Royal Opera production of Verdi's opera marked its 150th performance and its 12th revival on the 18 May opening night. Here are two clips from a 2009 production, with Antonio Pappano conducting and Renée Fleming, Joseph Calleja and Thomas Hampson in the title roles
Telegraph
Glyndebourne 2015: Poliuto podcast
Donizetti's Poliuto – the tale of a Christian martyr – opens the 2015 Glyndebourne Season. Here Katie Derham presents a special podcast about this rarely performed work
Classic FM
This beautiful animation uses neon lights to bring Bach's 'The Well-Tempered Clavier' to life
Visual artist Alan Warburton has used CGI neon lights to create a haunting animation inspired by Pierre-Laurent Aimard's recording of Bach's masterpiece. The result is mesmerising.
BBC Music Magazine
St John's Smith Square announces its Young Artists for 2015-16
The London concert hall announces the latest musicians to join its Young Artists' Scheme
Classical Music Magazine
BBC Ten Pieces project extended to secondary schools
The BBC's Ten Pieces initiative will be extended to secondary schools from Autumn 2015.
Die Welt
Es waren auch Komponisten unter den Opfern
Sie hießen George Butterworth, Colin Coles und Rudi Stephan. Sie waren herausragende Talente. Sie fielen im Ersten Weltkrieg. Ein herausragendes Album erinnert an die Werke fast vergessener Tonsetzer.
pizzicato
Warnstreik in deutschen Orchestern und Theatern
Vor der nächsten Runde der Tarifverhandlungen am morgigen 20. Mai sind gestern und heute Orchester und Bühnenkünstler in der Bundesrepublik Deutschland in Warnstreiks getreten. 
klassik.com
Stimmensätze zu Bruckners 6. Sinfonie wiederentdeckt
Der Dirigent und Musikwissenschaftler Benjamin-Gunnar Cohrs hat einen handschriftlichen Stimmensatz der 6. Sinfonie von Anton Bruckner wiederentdeckt.
Der Standard
Innsbruck bekommt ein "Haus der Musik"
Die Tiroler Landesregierung hat die Finanzierung für das Innsbrucker "Haus der Musik" beschlossen. 55,64 Millionen Euro soll die Musikeinrichtung kosten, die Landesregierung werde maximal 23,63 Millionen Euro beisteuern.
San Francisco Classical Voice
Terms of Engagement: Yes, Audiences Want Classical Music Apps
Arts organizations, especially classical music ones, speak of "audience engagement" these days. It's a constant in a world that has seen concert and opera attendance drop precipitously over the past few decades, which has left organizations struggling with holes in their budgets.
Twitter
Gramophone ‏@GramophoneMag: Gramophone's Recordings of the Year, 2000-2015. 15 of the best releases of the 21st century: http://bit.ly/1AeB2T2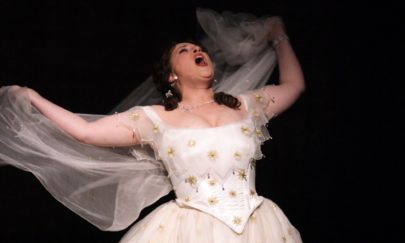 Diana Damrau as Violetta in the 2014 revival of Verdi's La Traviata. Photo: Catherine Ashmore/Royal Opera House