In today's news: Egyptian singer sentenced to two years in prison for "inciting debauchery", ballet about Rudolf Nureyev debuts five months later than planned, music startup Beatroot falls into liquidation. Also, sexual allegations affecting classical music industry, New York Philharmonic raises $50m for launch fund and Opera Stuttgart intending to attract the younger generation.
BBC News
Nureyev debuts but director still under arrest
A ballet about the famous Soviet dancer Rudolf Nureyev, who defected to the West has premiered – five months later than planned.
The Telegraph
Egyptian singer Shyma sent to prison for two years over 'explicit' music video of her eating a banana
An Egyptian pop singer has been sentenced to two years in prison for "inciting debauchery" after a music video showing her suggestively eating a banana was ruled to be too sexually explicit.
Forward
Should James Levine's Alleged Sexual Abuse Make Us Reconsider His Music?
By now, the question is familiar: How should those who distribute and consume art deal with the artistic legacy of someone accused of sexual harassment and assault?
Slate
Advocates Have Found Five Qualities Associated With Sexual Violence. The Classical Music World Hits Four of Them.
Last week, the American sex abuse crisis reached the most elite and rarefied echelon of "entertainment": the opera house. And while most Americans may never have seen The Marriage of Figaro, the classical music field is a surprisingly tidy case study in the environmental factors that make sexual abuse—and its cover-up—possible.
Music Business Worldwide
UK Music Startup Beatroot Falls Into Liquidation
British music tech startup Beatroot has ceased trading.
The New York Times
The Philharmonic, Under New Management, Raises $50 Million — Fast
In a show of donor confidence in its new leadership, the deficit-challenged New York Philharmonic announced Tuesday that it had raised $50 million to help it balance its budgets in the coming seasons as it rolls out its next music director, Jaap van Zweden.
Kulturradio rbb
Soziale Lage von Lehrkräften an deutschen Musikschulen ist "desaströs" 
Ihnen geht es immer schlechter, so das Ergebnis einer bundesweiten Studie der Gewerkschaft ver.di.
Klassik.Com
Theaterreform in Mecklenburg-Vorpommern im Winterschlaf?
Der Theaterreform in Mecklenburg-Vorpommern ist ins Stocken geraten. Eigentlich sollten die Theater Stralsund, Greifswald, Neubrandenburg und Neustrelitz ab 2018 unter gemeinsamem Dach als Staatstheater Nordost zusammengeführt werden.
Musik Heute
Stuttgarter Oper will sich mehr für Schüler öffnen
Die Stuttgarter Oper will sich künftig stärker öffnen – vor allem für junge Besucher.
Le Monde
Les raisons de l'alliance entre Tencent et Spotify dans le streaming musical
Le leader chinois du secteur et le champion suédois ont échangé des participations pour lancer une collaboration renforcée.
Twitter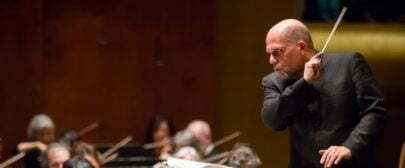 Image: Jaap van Zweden at Avery Fisher Hall © Classical Music/Chris Lee