Sanford Sylvan, the American baritone whose introspective eloquence and serene yet commanding presence put him at the centre of some of the most important operatic events of recent times, died on Tuesday at his home in Manhattan. He was 65.
Mr. Sylvan's voice — solid, but silken and plangent — and his combination of emotional openness and understated dignity brought to operatic life two crucial characters in landmark works by John Adams. He was the first Chou En-lai in "Nixon in China" (1987) and Leon Klinghoffer in "The Death of Klinghoffer" (1991). He was also the soloist at the premiere of "The Wound-Dresser" (1989), Adams's reflective orchestral setting of Walt Whitman's poem.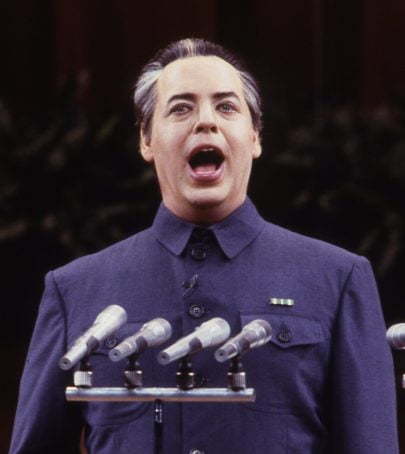 Inspired by a recording of Leontyne Price in "Aida," Sanford fell in love with opera at an early age, and music teachers quickly discovered he had a voice.
Not yet in high school, he was admitted to the Juilliard School's pre-college program, and he spent several summers at the Tanglewood Music Center, where he studied with the great soprano Phyllis Curtin, a passionate advocate of new music. He went on to the Manhattan School of Music, working on the side as an usher at the Metropolitan Opera.
[via New York Times]
---
Tesla CEO Elon Musk has revealed his plans for a new and rather unconventional anti-theft car system.
When the car detects an intrusion it will loudly play one of Johann Sebastian Bach's best-known pieces, Toccata and Fugue in D Minor.
The menacing organ piece, whilst being a humorous answer to a burglar alarm, will draw as much attention as possible to those trying to break into the vehicle. Many people will be familiar with its three dramatic opening flourishes followed by the low, growling pedal note underneath a huge, fortissimo rolling chord.
Elon Musk announced the news on Twitter last Sunday, 27 January.
Tesla Sentry Mode will play Bach's Toccata and Fugue during a robbery (and keep Summer safe)https://t.co/wnS5qLeB2E

— Elon Musk (@elonmusk) January 27, 2019
[via Classic FM]
---
Canadian mezzo-soprano Emily D'Angelo has been awarded the Leonard Bernstein Prize of the Schleswig-Holstein Music Festival.
The award, which is worth 10,000 Euros, will give D'Angelo the opportunity to perform in concert in Lübeck on August 16, 2019 with the Schleswig-Holstein Festival Orchestra, conducted by Christoph Eschenbach.
In a press release, jury member Christian Kuhnt said, "Emily D'Angelo has a distinctive, slim-line mezzo-soprano voice, which is beautiful, flexible and technically perfect. The young artist convinces with a maturity that is unusual for her age and a wide range of musical expressions, with which she can sing baroque and Bel Canto arias."
The prestigious award has previously been given to such musicians as Lang Lang, Lisa Batiashvili, Alisa Weilerstein, Martin Grubinger, Kit Armstrong, David Aaron Carpenter, Cameron Carpenter, Jan Lisiecki, and most recently Kian Soltani, as well as Charles Yang.
D'Angelo is currently rehearsing for "Così Fan Tutte" at the Canadian Opera Company.
[via Opera Wire]