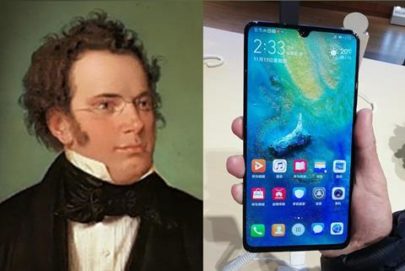 For the first time ever, Huawei, the Chinese telecoms giant, has used the power of AI to compose the final two movements of Schubert's Symphony No. 8, the 'Unfinished', which has remained incomplete for 197 years.
Analysing the timbre, pitch and meter of the existing first and second movements of the symphony, Huawei's AI model then generated the melody for the final, missing third and fourth movements.
The company then worked with Emmy award-winning composer, Lucas Cantor to arrange an orchestral score from the melody that stayed true to the style of Schubert's Symphony No. 8.
'At Huawei, we are always searching for ways in which technology can make the world a better place. So we taught our Mate 20 Pro smartphone to analyse an unfinished, nearly 200 year old piece of music and to finish it in the style of the original composer,' commented Walter Ji, President CBG, Huawei Western Europe.
'We used the power of AI, to extend the boundaries of what is humanly possible and see the positive role technology might have on modern culture. If our smartphone is intelligent enough to do this, what else could be possible?'
The composer, Lucas Cantor, said: 'My role was to draw out the AI's good ideas and fill in the gaps to ensure the final output was ready to be played by a symphony orchestra. The result of this collaboration with AI proves that technology offers incredible possibilities and the significant and positive impact it can have on modern culture.'

The final, Huawei-completed piece will be brought to life with a live performance at London's Cadogan Hall on Monday 4th February.
[via The Strad]
---
Following a showcase at the Southbank Centre's Purcell Room in London, Elena Abad has been announced as the winner of Trinity Laban's Gold Medal.
Her performance, which included Fritz Kreisler's colourful Recitativo and Scherzo, Op. 6 and her own solo violin of arrangement of Freddie Mercury's iconic Bohemian Rhapsody, also won her the newly introduced Audience Prize.
Abad, who recently completed her MA Music in Violin at Trinity Laban, was a Trinity College London Scholar, Violet Wright Scholar, Beatrice Taylor Scholar and Helen Roll Scholar.
The annual Gold Medal Showcase celebrates outstanding young Trinity Laban musicians. Competitors are nominated by the Heads of each of Departments within Trinity Laban's Faculty of Music for their exceptional musical flair and professionalism, and all receive a Trinity Laban Director's Prize for Achievement in recognition of this.
This year's edition saw seven students and recent alumni compete for the Gold Medal with a mix of classical, contemporary, jazz and musical theatre.
[via The Strad]
---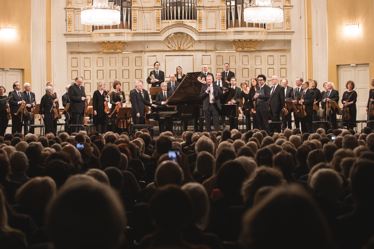 Die Cappella Andrea Barca ist im Rahmen ihres Konzerts zur Mozartwoche mit der Goldenen Mozart-Medaille ausgezeichnet worden. Dies ist die höchste Auszeichnung, die die Stiftung Mozarteum Salzburg im Namen Mozarts vergibt. "Seit ihrer Gründung 1999 verzaubert und berührt die Cappella Andrea Barca die Besucherinnen und Besucher der Mozartwoche. Dieser Enthusiasmus, diese einzigartige gemeinsame Musizierfreude müssen mit der Goldenen Mozart-Medaille, der höchsten Auszeichnung der Stiftung Mozarteum gewürdigt werden. Herzliche Gratulation!", so Stiftungs-Präsident Johannes Honsig-Erlenburg. Die Laudatio hielt der Intendant der Mozartwoche Rolando Villazón.
Golden Mozart medal for the Cappella Andrea Barca
The Cappella Andrea Barca has been awarded the Golden Mozart Medal as part of their Mozart Week Concert. This is the highest award given on behalf of Mozart by the Mozarteum Foundation Salzburg. "Since its foundation in 1999, the Cappella Andrea Barca enchanted and touched the visitors of Mozart Week. This enthusiasm, this unique joie de vivre, must be acknowledged with the Golden Mozart Medal, the highest award of the Mozarteum Foundation. Congratulations!" says Foundation President Johannes Honsig-Erlenburg. 
[via Klassik-Heute]