If you look back at our daily news page on our website, it is not an exaggeration when I say that in the last few weeks almost every day there has been a news story about Sir Simon Rattle. Everyone has had their say on the concert hall rumours and now it is time for WildKat PR to add to the debate with our take on the whole issue.
I have always liked Simon Rattle, maybe it is because my grandparents, who live in Birmingham, are regulars at the Symphony Hall and talked about him when he was at the CBSO, maybe it is his musicianship, or maybe it is our mutual love for Mahler. Either way, I would love to see him back in London after he leaves his post as Principal Conductor of the Berlin Philharmonic in 2018. But what of his concert hall demands? It is generally accepted that London lacks a world class concert hall in terms of acoustics when compared to the likes of Amsterdam's Concertgebouw and Berlin's Philharmonie. It seems a bit of an oxymoron to have our prestigious orchestras housed in halls that have been described as a 'complete joke' by some musicians in terms of acoustics and backstage facilities. So, Rattle's suggestion is not entirely unreasonable in this sense.
Photo: Sipa Press / Rex Features
However, as Ivan Hewett commented in The Times, it is not that the acoustics in London are bad, others are just better. Just talking about acoustics only provides one part of the story and does not take into account the psychological factors when listening to a performance: the emotions we feel and pictures the music conjures up. We do not want the acoustic question to veil the actual music. There is a special something about our concert halls in London which implants itself when you come to a concert here: their history, the grandeur of the building itself and the thrill of who else has performed on that stage. Can you imagine the Proms anywhere else other than the Royal Albert Hall? Pageantry and tradition is something the UK has perfected and our existing concert halls are a part of this.
There is a political side to all of this too. I must admit that part of me agrees with Jessica Duchen, that much of George Osborne's commitment to a 'feasibility study' is probably General Election talk to get us all on side. With the economy still in a tight spot, spending however many millions on a new concert hall is not sensible. Indeed, Charlotte Higgins argued that if we need to spend any money on a new music venue in London, it needs to be a Glyndebourne-esque space for the crisis stricken English National Opera.
And then there is the question of its location. Where in central London is both available and suitable?
As much as I would love to see Sir Simon back in London, building a whole new concert hall seems hard to justify in these times especially when some say the acoustic argument is exaggerated. Spending the money on music education instead sounds like a better idea. If, after May, the new government uphold this enthusiasm then perhaps the idea will be taken more seriously but, how likely this is is left to be seen.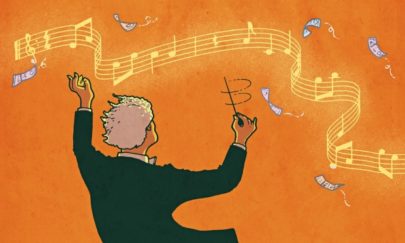 Illustration: Robert G Fresson