Classical News
The Guardian
Simon Rattle conducts the Young Orchestra for London – in pictures
On the Sunday of his London Residency, Sir Simon Rattle conducted the first-ever Young Orchestra for London – 100 Londoners aged 11-21, of mixed abilities, representing each of the city's 33 boroughs
The Independent
The one-armed concert pianist: Nicholas McCarthy on Britain's Got Talent and the Proms
Despite being born with one arm, Nicholas McCarthy has fulfilled his ambition to become a concert pianist. His next goal is to be taken more seriously, he tells Nick Duerden
The Telegraph
Sorry, Simon, London doesn't need another concert hall
Ivan Hewett rejects Simon Rattle's claim that London needs a new concert hall where orchestras can 'flourish'
It's Never Too Late to… Take Up Piano
Schubert might have been a bit younger when he started playing the piano, but Lionel Kelly is giving it a shot in his seventies
The Strad
Calling Canadian violinists and cellists: applications now open for Musical Instrument Bank
The Canadian organisation loans fine instruments and bows to musicians every three years
Klassik.com
Dirigent Gustaf Sjökvist ist tot
Schwedischer Chorleiter, Organist und Hochschullehrer wurde 71 Jahre alt
neue musikzeitung
Die Entdeckung des englischen Komponisten John Foulds
Mystische Ekstase und "West Meets East"
Washington Post
Gourmet Symphony: Wining and dining a new audience for classical music
D.C.'s new Gourmet Symphony pairs gourmet food and drink with classical music to give audiences a new, more welcoming musical experience.
La Croix
Le « Voyage Beethoven » du pianiste Leif Ove Andsnes
Depuis quatre ans sur les routes avec le Mahler Chamber Orchestra, l'artiste a joué dans 108 villes de 27 pays où il a parallèlement fait découvrir la musique à des enfants sourds.
Dernières Nouvelles d'Alsace
Marc Clémeur anticipe son départ
Il entend privilégier le casting et la quête de nouveaux talents lyriques : Marc Clémeur annonce son départ de la direction de l'Opéra du Rhin en septembre 2016.
Classicalite
Professor Eduardo Miranda and Slime Mold Duo to Premiere 'Biocomputer Music' at 'Biomusic' in March
For Brazilian scientist and composer Professor Eduardo Miranda, his new breakthrough in science is rather offbeat. His new piece, Biocomputer Music, explores the changes in slime mold as it responds to music.
Twitter
Warwick Commission @UoWcommission :The cultural and creative sector can claim irrefutable success as creator of value – economic, social, and international #enrichinggb
Wigmore Hall @wigmore_hall :Interesting collection, with some musical connections if you have a closer look and, oh, Good Morning
Royal College Music @RCMLatest : Arcangelo #Corelli was born on this day 362 years ago. Pay his portrait, and others, a visit in our #Museum of Music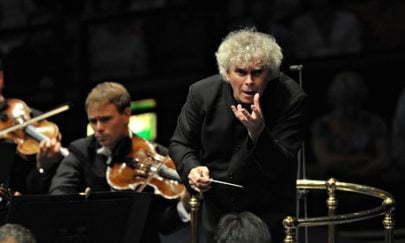 Simon Rattle conducting the Berlin Philharmonic: Photograph: Chris Christodoulou/BBC