The new chair of Arts Council England, Sir Peter Bazalgette, made his inaugural lecture at London's RSA yesterday. The lecture was the launch of a partnership between RSA and Arts Council England to provide a series of 'State of the Arts' seminars, to replace the single annual Arts Council conference. Sir Bazalgette spoke of the need for Councils and businesses to support the Arts, stating 'there is no city in Britain that does not understand the importance of the arts and culture, both as central to the life of the city and to the local economy'.
Arts Council England 'champions, develops and invests in artistic and cultural experiences that enrich people's lives.' Between now and 2015 Arts Council England will invest £1.4 billion of public money from the government and an estimated £1 billion from the National Lottery to create cultural experiences across England for as many people as possible. Sir Peter Bazalgette became the chair of Arts Council England in January of this year having been appointed by Secretary of State for Culture, Olympics, Media and Sport, Jeremy Hunt.
During Sir Bazalgette's speech, whilst addressing current advances in performance practices in the arts world, he spoke of his visit to see WildKat PR client, Silent Opera, and how art is not just for art's sake. He stated 'I didn't go to Silent Opera's production of L'Orfeo in Docklands Warehouse to scrutinise who did the excellent lighting and sound design, I went to enjoy an innovative opera format'.
Silent Opera is an innovative new opera company, aiming to 'bring the action of the music to life without sacrificing the operatic narrative', by immersing audience members within the opera. Audience members have individual headphones, which high quality, brand new music recordings are broadcast to, whilst the cast of the operas move around the performance space: 'opera is set loose'. Silent Opera has been highly reviewed by many national press outlets, and has featured on both Channel 4's Sunday Brunch and BBC News. This new medium of opera performance has been described as "An extraordinary concept that really does work…" (Capriccio Music Blog).
To listen to Sir Peter Bazalgette's speech please click here, or to find out more about Silent Opera, click here.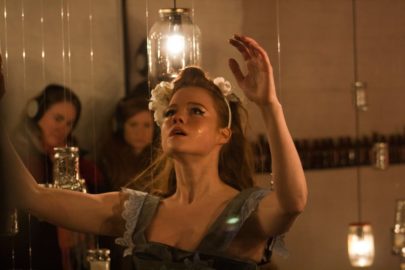 Credit: Oliver Hyde-Tetley