Classical News
In today's news, Sokolov refuses award won by Lebrecht, and Juilliard opens a campus in China. Also, Classical Music Magazine writes that women in classical music are thrust into the spotlight for all the wrong reasons, and Classic FM lists the struggles of being a classical-music loving Millennial
Gramophone
Grigory Sokolov refuses award because it has previously been won by Norman Lebrecht
Sokolov: 'According to my ideas about elementary decency, it is shame to be in the same award-winners list with Lebrecht'
Classical Music Magazine
Women in classical music are being thrust into the spotlight for all the wrong reasons
When 17-year-old Jessy McCabe made headlines last month with her shocking discovery that Edexcel's Music A-Level syllabus featured not a single work by a female composer, my reaction was one of anger and frustration
The Guardian
Meet the Turner prize shortlist, from the musician to the mind-reader
Architecture, opera, fashion, parapsychology … this year's contenders are taking contemporary art into exciting new territory. We sent our experts to meet the artists on the shortlist
Classical Music Magazine
Juilliard to open campus in China
The Juilliard School is to open its first campus outside New York.
The Guardian
Turning opera inside out: how I got Lost in Thought
Shoeless and armed only with a swizzle stick, Stuart Jeffries attempts to banish distracting thoughts and be part of the world's first mindfulness opera
Classic FM
The worst things about being a classical music-loving Millennial
You were born in the 1990s, you love classical music, and it's a nightmare. Here are 11 of the worst day-to-day trials that you have to put up with…
Klassik.com
h-Moll-Messe von Johann Sebastian Bach für Weltkodumentenerbe nominiert
Die deutsche Unesco-Kommission sieht das Werk als Meilenstein der Musikgeschichte in Bezug auf Satztechnik, Wort-Ton-Verhältnis sowie ihre ästhetisch und theologisch durchdachte Gesamtform.
Tagesspiegel
Im Strudel – Igor Levit und das DSO
Der Pianist Igor Levit gibt sein Debüt in der Philharmonie. Zusammen mit dem DSO unter der Leitung von Oslo Vänskä lässt er den Saal vor Spannung vibrieren.
Klassik heute
"Musik in den Häusern der Stadt" in Köln, Hamburg und Bonn
Weltmusik im Wohnzimmer, Klassik im Atelier, Jazz im Foyer – vom 3. bis 8. November ist wieder "Musik in den Häusern der Stadt" zu hören.
El país
Les Arts y el IVAM llevarán ópera al museo y exposiciones al coliseo
La muestra 'Testigos del arte' ya se puede ver en el Palau de les Arts y desde octubre intérpretes del Centre Plácido Domingo a cantarán en el muse0
El mundo
Plácido Domingo canta y llora a su hermana recién fallecida
María José Domingo, de 72 años, murió este verano en Boston. El tenor la ha homenajeado con un recital en la catedral de Los Ángeles.
Twitter
Sinfini Music ‏@SinfiniMusic : 'they were taking the piano apart and reassembling it as I played' @maxrichtermusic on SLEEP http://bit.ly/1WttySM 
Music Education UK ‏@MusicEdUK : BBC Music launches Ten Pieces Secondary film http://musicstage.co/Sharing/98148ad4e3754386a073aee3812213bf1 …
In Tune BBC Radio 3 ‏@BBCInTune : A packed studio today! Players from @NYO_GB & @BBCSO teaming up to perform an amazing mash up of the #BBCTenPieces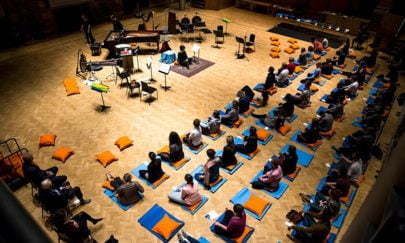 'Music is doing what it always does – dividing up time, but this time in order to structure our work' Lost in Thought: a mindfulness opera, by Rolf Hind, at LSO St Luke's. Photograph: Simon Jay Price/The Guardian