Soprano Kathryn Lewek celebrates success in Europe
Kathryn Lewek has established herself as one of opera's most thrilling coloratura sopranos of this generation, performing some of the most vocally challenging roles in the repertoire, joining the top-ranking operatic performers of all time.
The soprano has recently performed the roles of Lucia in Lucia di Lammermoor at the Opéra de Nice and The Queen of the Night from The Magic Flute at the Semperoper, Dresden's Opera House.
In December 2022, she also debuted the roles of the Heroines (Olympia, Antonia, Giulietta, Stella) for Les Contes d'Hoffmann at the Deutsche Oper Berlin in Germany.
Lewek reprised the title role of Lucia di Lammermoor for Opéra de Nice in February 2023 and was met with critical acclaim, with 12 positive reviews all by major publications.


In a sparkling review, Opera Magazine commented that 'as for Kathryn Lewek, she is fabulous in the title role: her technique is superlative, with a school trill, exceptionally smooth vocalizations and amazing high notes, but more willingly delivered pianississimo, even pianississimo or filés, rather than fortissimo.'
Première Loge further praised the soprano, expressing that 'her technical perfection, as well as her sensitivity or her dramatic sense earns the singer a triumph'.
Crescendo Magazine described her mastery of the vocal line and vocalization as 'breathtaking', adding that 'she has flawless technique, power and subtlety, which she combines with an overwhelming stage presence'.
A particularly special performance took place on 21 February as tenor Zach Borichevsky, Kathryn's husband, stepped in at the last moment to play the role of Edgardo due to tenor Oreste Cosimo being taken ill. Kathryn shared the update on her social media saying 'Not only did Zach save our show as the stunning tenor that he is, but the fact that he so quickly learned the staging in 45 minutes in our living room is evidence of his intelligence and energy'.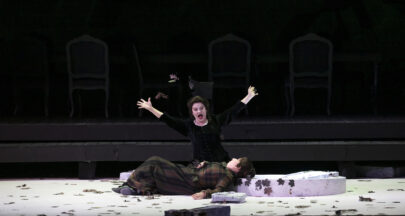 Lewek's triumph in Nice was followed in March 2023 by more positive reviews of her next performance in The Magic Flute as Queen of the Night at Semperoper Dresden, Germany.
In a strong review, Dresdner Neueste Nachrichten wrote that 'Kathryn Lewek conquered the Semperoper with a brilliant 'Queen of the Night', further adding that she 'exceeded expectations'.
Sächsische Zeitung pointed out that 'it is her parade role par excellence' as 'she has been doing this for ten years and already over 300 times', performing at the Metropolitan Opera House in New York, the Royal Opera House Covent Garden London, the Liceu Barcelona, the Teatro Real Madrid, the Vienna and Bavarian State Operas, at the Bregenz Festival.
This Friday 17 March 2023 at 9pm (GMT), Lewek will be joining Times Radio for an interview with Ed Vaizey. Make sure to tune in to keep up-to-date with the singer's plans.
2023 already looks like a year full of successes for Kathryn Lewek. From 19 May to 10 June 2023, the soprano will be reprising her role as The Queen of the Night at Metropolitan Opera House in New York. For more info and to buy tickets, click here.
And for more information about Lewek – visit her website or follow her on Twitter and Instagram.