Classical News
Guardian
Opera, festivals and a legendary pianist: the Southbank Centre announces 2015-16 programme
Next season's highlights include Opera North's semi-staged Ring cycle, and anniversary celebrations for Barenboim, Shakespeare and Menuhin
Classic FM
Barenboim to perform with Dudamel to mark 60th anniversary of his Royal Festival Hall debut
Daniel Barenboim performing with Gustavo Dudamel and the Simon Bolivar Symphony Orchestra and a performance by Nicola Benedetti are just two of the highlights of Southbank Centre's 2015/16 season.
Classical Music Magazine
Southbank and resident ensembles announce 2015/16 seasons
The Southbank Centre and its four resident ensembles, the London Philharmonic Orchestra, Philharmonia Orchestra, London Sinfonietta and Orchestra of the Age of Enlightenment, have announced their 2015/16 seasons.
BBC Music Magazine
BBC Proms launches 2015 'Inspire' competition for young composers
Winning works will be performed at the 2015 Proms
Gramophone
Watch: Esa-Pekka Salonen named New York Philharmonic's Composer-in-Residence
The Principal Conductor of the Philharmonia Orchestra assumes his first resident composer position, with video interview
Sinfini
The Manchester Camerata has announced a new concert programme that will use sensory stimuli – from scent bombs to blindfolds to custom-made cocktails – to encourage their audience to experience music in a new and different way.
Frankfurter Allgemeine
So sieht Europas neues Urheberrecht aus
Das europäische Urheberrecht soll harmonisiert werden. Zwei Deutsche sind federführend: Günther Oettinger für die Kommission, Julia Reda für das Parlament.
pizzicato
Pianistin Elisso Bolkvadze wird 'UNESCO Artist for Peace'
Die georgische Pianistin Elisso Bolkvadze (*1967) wurde zum 'UNESCO Artist for Peace' ernannt.
Deutschlandradio Kultur
Ultraschall Berlin 2015 – das Festival für Neue Musik
concerti
"So ernst nimmt man mich zuhause nicht"
Anne-Sophie Mutter über die Abnabelung ihrer Kinder, Fitnesstraining für die Bühne – und die Weisheit im Alter
CLASSICALITE
Hungarian Pianist Gergely Bogányi Creates "Revolutionary" New Piano with Composite Soundboard, Unveils it in Budapest
A new piano has been introduced by Hungarian pianist Gergely Bogányi that he believes will revolutionize the world of piano playing.
Twitter
The Guardian ‏@guardian: A temporary reprieve for the troubled Ulster Orchestra http://trib.al/BbFeJMJ 
Royal Opera House ‏@RoyalOperaHouse: How do such beautiful performances emerge from such cramped conditions? Orch pit insights: http://www.roh.org.uk/news/going-underground-a-day-in-the-life-of-the-orchestra-pit … ^C
Classic FM @ClassicFM: For the flautists. Sorry, 'flutists'. Whatever it is. http://classfm.co/i7RoeA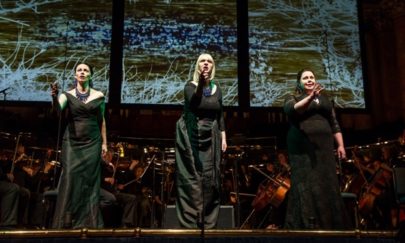 Intelligent and accessible … Opera North's Ring cycle is part of Southbank Centre's 2015-16 programme. Photo: Clive Barda/PR