Classical News
BBC News
Apple agrees to buy headphone maker Beats for $3bn
Apple boss Tim Cook said the deal would allow the firm to "continue to create the most innovative music products and services in the world".
The Times
How to melt the Sydney Opera House
The designers behind the 2012 Olympics opening ceremony are working their magic for the Vivid Sydney festival.
abc News
Beethoven letter goes to auction 
A rare letter by Ludwig van Beethoven is among over 400 historical documents coming to auction.
Tagesspiegel
Im Architekturfilm "Kathedralen der Kultur" erforschen Wim Wenders, Robert Redford und andere die Seele von Meisterwerken der Baukunst. Auch die Berliner Philharmonie ist dabei. 
Daniil Trifonov und Igor Levit gelten als die derzeit weltbesten jungen Pianisten. Sie stammen beide aus dem russischen Nischni Nowgorod und spielten jetzt in Berlin. Ein Vergleich. 
KlassikAkzente
50 Fakten über Herbert von Karajan: Die Legende lebt, Teil 3/5
Herbert von Karajan und Deutsche Grammophon: 50 Jahre währte ihre Zusammenarbeit (1939-1989). Wir gedenken Karajans mit einer Sammlung von 50 Fakten, die jeder Fan kennen sollte.
Classicalite
Apple-ocracy: New iPad Air 2 Commercial Features Esa-Pekka Salonen Shaving, Leila Josefowicz Shilling for 'Violin Concerto'
The New Yorker has some strong opinions about the current status of orchestral works in popular culture (cf. the latest Apple advert for the iPad Air). "Not surprising, given Apple's distinguished history of television propaganda," writes David Remnick's classical music critic Alex Ross.
El Mundo
El gran violonchelista Carlos Prieto relata el drama emocional vivido por el compositor en la era soviética y su peculiar 'disidencia' musical
Twitter
@WildKatPR Our client @PhilipSheppard is guest speaker and performer at the @C2MTL conference this evening in Montreal, Canada http://www.c2mtl.com 
@guardian Mozart's 41st symphony – the last he composed – is full of postmodernism, palimpsests, and pure exhilaration

@WillGomptertz
Terrible news about the fire at Glasgow School of Art, a true masterpiece by a true master. A horrible blow to a great city.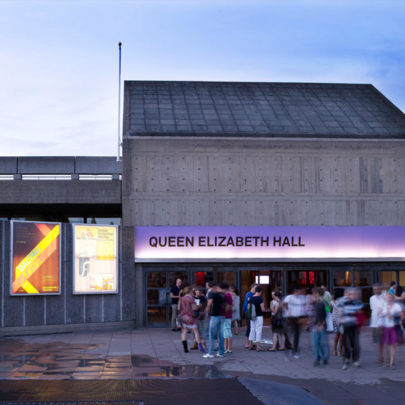 Queen Elizabeth Hall, Southbank Centre's second-largest performance space
www.southbankcentre.co.uk – Classical Music Magazine