Tanglewood has announced the inaugural season for the Tanglewood Learning Institute (TLI). The new centre cost around USD30m (€26.5m), and includes the Linde Center for Music.
"All of us at the BSO are thrilled to launch TLI and open a transformative new chapter of programming to enjoy alongside the great tradition of Tanglewood performances," said president and CEO Mark Volpe. "With a whole new layer of activities available for patrons curious to get closer to our world of music and even venture beyond it, TLI will offer visitors a sense of discovery and engagement on a scale never before offered by the festival in its 82-year history."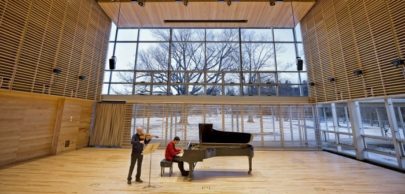 Plenty of big names are involved in TLI's launch. Renée Fleming will appear in the world premiere of Kevin Puts' The Brightness of Light (19-21 July); Andris Nelsons will lead Tanglewood Music Center Orchestra in Die Walkürie (26-28 July); while there is also a weekend of John Williams film scores (23-25 August).
There are many education opportunities, too. TLI OpenStudio features masterclasses with Nelsons and Fleming as well as Jean-Yves Thibaudet and Yo-Yo Ma; Full Tilt offers interactive experimental work such as a multi-sensory presentation of John Cage's work; and talk series The Big Idea with guests like Madeleine K. Albright, Doris Kearns Goodwin and Daniel Shapiro.
Money for the project has come through Tanglewood Forever, a fundraising project organised by Boston Symphony Orchestra. So far it has raised just over USD61m, with a goal of USD64m to cover construction costs and upkeep.
[via International Arts Manager]
---
This Saturday (9 February), the winners of the New Elizabethan Award will perform in a showcase event at Wigmore Hall.
The inaugural New Elizabethan Award was presented last summer by the Musicians' Company to outstanding performers of lute and guitar repertoire by composers of the two golden ages of Elizabethan music.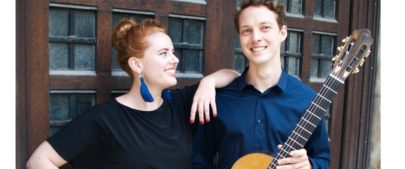 The winners were Jesse Flowers (guitar), Andrey Levedev (guitar) and Lotte Betts-Dean (mezzo-soprano).
This Saturday, they will perform works by Dowland, Britten and Phillip Houghton among others.
[via Rhinegold]
---
Der Deutschen liebstes Kind ist nicht nur das Automobil. Auch für Musikinstrumente geben Bundesbürger deutlich mehr als im EU-Schnitt aus. Bei den Instrumentengruppen gibt es Gewinner und Verlierer.
Der Musikinstrumentenmarkt in Deutschland wächst weiter. Das belegen die neuen Zahlen des Instituts für Handelsforschung an der Universität Köln (IFH), welche am Donnerstag, 7. Februar, veröffentlicht wurden. Laut IFH erreicht der Gesamtmarkt in Deutschland 2018 nach ersten Hochrechnungen ein Volumen von 1,1 Milliarden Euro. Getrieben wurde das erneute Wachstum nicht etwa durch den Zuwachs an neuen Musikern, sondern u. a. von der Spielintensität und -häufigkeit, wie der aktuelle "Branchenfokus Musikinstrumente 2018/2019" der IFH zeigt.
Mit einem Plus von mehr als 20 Prozent treiben seit 2014 insbesondere elektronische Musikinstrumente wie Keyboards, Sampler und Drumcomputer den deutschen Markt voran. Sie ersetzen einerseits klassische Instrumente, andererseits erschließen sie neue Zielgruppen und erreichen so mehr potenzielle Käufer. Auch die gestiegene Bedeutung von Musikschulen bei jungen Kindern und Senioren befeuert das Marktwachstum. Weiter beliebt sind auch Blasinstrumente, deren Absatzzahlen sich erneut positiv entwickelten. Streich- und Zupfinstrumente haben hingegen an Umsatz verloren.
The German music instrument market shows a sales increase. Germans spend significantly more on musical instruments than the EU average.
With an increase of more than 20 percent, electronic music instruments such as keyboards, samplers and drum computers have been driving the German market since 2014. On the one hand they replace classical instruments, but on the other they open up new target groups and thus reach more potential buyers. Also popular are wind instruments, whose sales figures have again developed positively. Bowed and plucked instruments, on the other hand, lost their sales.
[via SWR]