In Harmony Telford & Stoke partner Telford & Wrekin Council, has been awarded the national Creative and Cultural Employer of the Year for Apprenticeships from Creative and Cultural Skills.
This award celebrates the work of  Telford & Wrekin as creative and cultural employers who create opportunities for young people. Last year Telford & Wrekin Council Arts and Culture Service was awarded funding through the national Creative Employment Programme, a £15m Arts Council England lottery funded programme, to create and support a number of arts- and culture-based apprenticeships.
Telford & Wrekin works with In Harmony Telford & Stoke, a social programme that aims to develop a holistic music education offer for children and the wider school community, at Old Park Primary in Telford and Heron Cross Primary in Stoke.
Speaking of Telford & Wrekin's award, Peter Knott, Area Director of Arts Council England, added: "This is fantastic news for Telford & Wrekin Council's Arts and Culture Service.  It's really important in the current economic climate for us to create employment opportunities for young people and support them to develop their skills and talents.
"I'm pleased that Telford & Wrekin has been able to achieve this through the Arts Council's In Harmony programme and Music Education Hub and it's great to see their impact has been acknowledged by Creative and Cultural Skills."
As the largest In Harmony programme in the country, In Harmony Telford & Stoke employs 25 teachers for their 900 children, as well as launching a fantastic apprentice scheme with Birmingham Conservatoire. Last year 75% of these apprentices were then taken on as teaching staff for the programme. The quality of teaching they both aim for and achieve is of the upmost importance to IHTS, with 85% of their overall costs spent on activities that affect children directly.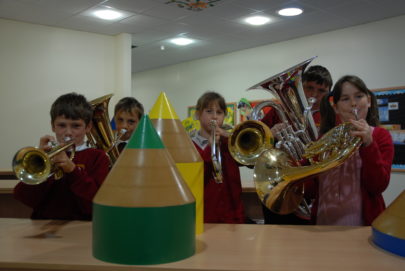 In Harmony Telford & Stoke, Old Park Primary Telford