The Academy of Ancient Music have today announced that Robert Levin will inaugurate the Hogwood Fellowship. Established in honour of the Academy of Ancient Music's founder Christopher Hogwood, the Fellowship is designed to further the ensemble's commitment to providing historical insight and cultural context to the music they perform.
Christopher Hogwood was once asked if he spent half his time as a musician, and the other half as a musicologist; his response was that he spent 100% of his time as both.  Setting the AAM apart from other ensembles is the creativity and spontaneity of their performances that are grounded in scholarship, with a constant exploration of music in its broadest cultural context.
Robert Levin is a consummate musician, much loved by audiences around the world as a soloist and conductor.  He is also a renowned scholar, holding positions at institutions including Harvard and Cambridge University.  He enjoyed a long and close association with Christopher Hogwood and the AAM, which continues now with Richard Egarr as Music Director. Robert's tenure as the first Hogwood Fellow for the remainder of this season, and the 2017-18 concert season, will include performances with the orchestra. Robert will provide insights into the music the AAM perform through interviews, talks, articles and concert programme notes.
WildKat had the great privilege of attending an interview with Robert Levin in Salzburg, where he was recording Mozart's Piano Sonatas, on the composer's own fortepiano.
Please enable Javascript to watch this video
Music Director Richard Egarr commented: 'I'm so pleased that Robert Levin will be our very first Hogwood Fellow.  I've worked with him for many years, and what he stands for really represents all that Christopher Hogwood stood for as well.  Robert Levin is a most incredible mind, has an encyclopedic knowledge of Mozart and Bach, and total recall over information. But not only that, he has the ability to transform this information into extraordinary live performance.'
Beyond 2017-18, Richard Egarr will be leading the process to seek out the next Hogwood Fellow. They may be a musician and musicologist like Robert, or perhaps an academic, or an artist – anyone from any discipline who can provide greater insight into the AAM's music and music-making.
Robert Levin will next perform with the Academy of Ancient Music at the Barbican Centre's 'Sound Unbound' weekend, taking place 29-30 April 2017.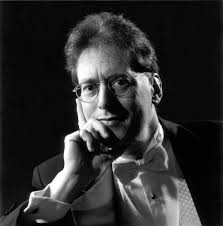 Image: Robert Levin, Ascherman