The City of Derry International Choir Festival is having an online iteration with a rich virtual programme of performances, events and workshops running from Wednesday 21 October to Sunday 25 October. The online festival is here to help us celebrate all that is good about choral singing – how it brings us together, uplifts us and inspires us deeply.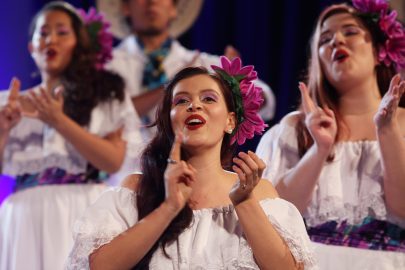 The online festival features a winning mix of events, with something for everyone: Acclaimed chamber choir Tenebrae will enchant audiences with their 'astonishing beauty and force' (The Times) in a sparkling evening of choral works streamed from London's serene St Stephen Walbrook Church; young post-primary school children will join together to sing 'Amazing Grace', and a 350-strong virtual chorus made up of singers worldwide will perform the much-loved 'Danny Boy'', conducted by world-renowned composer Bob Chilcott.
Elsewhere, there'll be a World Premiere of 'A New Topography of Love', a sensational new piece by composer Brian Irvine. Then, leading Irish six-piece a cappella group, Ardú, will present a variety of well-known songs including 'Heroes' by David Bowie and 'Ain't No Sunshine' by Bill Withers, all performed from the exquisite setting of The Glassworks in Derry. For further information on the myriad other workshops and events in the programme, please visit their website here.
Audiences will be able to watch most of the free-to-view virtual concerts and events on City of Derry International Choir Festival's facebook page.