The first international, fully integrated music centre for the higher education of strings launches in the historic Italian city famed for its violin heritage

The Stauffer Center for Strings has been established in Cremona, the world's capital for violin making, to provide training and support to exceptionally talented young string musicians from around the world.
The Center is the world's first international music centre entirely dedicated to the higher education of strings, encompassing research, composition, production, management and innovation.
Its headquarters will be in the heart of Cremona, at Palazzo Stauffer (previously Palazzo Stradiotti), an iconic, seventeenth-century building that has undergone major restoration to become a high-tech, sustainable and entirely plastic-free multifunctional campus – enriched by an exclusive interior design project by the iconic Italian company Pininfarina.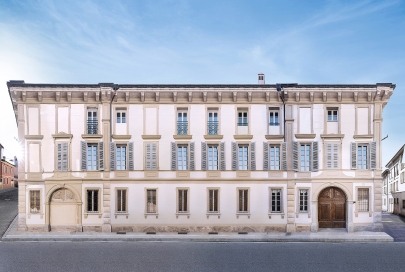 The Center is providing an exceptional physical space for two current entities – The Stauffer Academy, created 35 years ago, and the Stauffer Foundation, established in 1970.
The Center will house the existing Stauffer Academy and the Stauffer Labs (new creative and innovation departments), as well as an exclusive recital room, several practice rooms and classrooms, a recording studio, a multimedia library, and a café, in addition to a guesthouse set in a romantic, enchanting garden.
Spread across three levels, the Center's 2000 square metre interiors showcase an exclusive design project by Pininfarina Architecture, a worldwide icon of Italian style. Through a blend of beauty, technology and impact, Pininfarina is respecting the stylistic features of the historic building, whilst breathing new life into it to merge tradition and modernity.
As a dynamic hub dedicated to supporting the artistic and professional growth of new generations of musicians, the Center champions itself as an ideal meeting and sharing space for artists, teachers and students, and as a place where students will be able to express their talent and creativity in full respect of cultural and gender diversity.
All of the programmes offered by the Center, including the courses run by the Stauffer Academy, are full scholarships, allowing musicians to attend free of charge to ensure accessibility from a diverse range of musicians internationally.
The Center will see world-class artists working alongside the current renowned Masters of the Stauffer Academy: Salvatore Accardo (violin), Bruno Giuranna (viola), Antonio Meneses (cello), Franco Petracchi (double bass) and the Quartetto di Cremona.
The Stauffer Center is also developing a series of strategic partnerships of great importance and international prestige. The first collaborations include: Steinway & Sons, official supplier of the Center's pianos; the technological giant Oracle, which has overseen the creation of the Center's digital web platform (accessible from June 2021); and Pentagram, which has created a new visual identity and a new logo for the Center, the Stauffer Academy and the Stauffer Foundation.
The inauguration of the Center will take place on 1 October 2021 (International Music Day), with an Open Day event at Palazzo Stauffer, which will also be streamed. This Open Day will launch the academic year 2021/22.