Classical News
In today's news, Yehudi Menuhin's legacy reviewed by Jessica Duchen, Sir Roger Norrington states that London has no great concert hall to rival other major cities around the world and the Philharmonia of New York, will debut two concerts with films, lighting and the largest cast of performers assembled in Lincoln Center's Rose Theater
BBC Music Magazine
English composer, conductor and pianist Thomas Adès has been appointed artistic partner at the Boston Symphony Orchestra. In this new role Adès role will play with and conduct the BSO throughout the season, as well as composing new works for the orchestra.
Guardian
Royal College of Music honours Reich, Norrington and Jurowski
At the college's annual awards, presided over by HRH The Prince of Wales, the US composer praised the state funding that in the early days of his career made it easier to perform here than in California.
The Independent
Yehudi Menuhin's centenary year: A maestro with many strings to his bow
As the musical world celebrates Yehudi Menuhin, Jessica Duchen reviews his legacy and explains why he is remembered as far more than a violinist of extraordinary talent
Classic FM
Sir Roger Norrington: 'London does not have a good concert hall'
The legendary early music conductor has told Classic FM the UK capital is lacking a great concert hall to rival other major cities around the world.
International Arts Manager
Youth orchestra heads to Europe
A lucky group of 109 young musicians have been selected to tour Europe with National Youth Orchestra of the United States of America (NYO-USA). Not only do they get to see the world but they also get to work with top conductors Christoph Eschenbach and Valery Gergiev, and play with outstanding pianists Pianists Emanuel Ax and Denis Matsuev.
Wall Street Journal
New Orchestra Rethinks the Classical Music Experience
A newly-launched orchestra, the Philharmonia of New York, will debut two concerts with films, lighting and the largest cast of performers assembled in Lincoln Center's Rose Theater.
Berliner Zeitung
Die MaerzMusik setzt als "Festival für Zeitfragen" auf Text statt auf Klang
Wer zur Pressekonferenz der "MaerzMusik" zu spät kam, mochte sich irgendwann fragen, ob er sich nicht doch im Zimmer geirrt hatte.
Musik-heute
Berlins Bühnen und Orchester mit 3,1 Millionen Besuchern
Die Berliner Bühnen und Orchester blicken auf ein sehr erfolgreiches Jahr 2015 zurück.
NMZ
Demnächst im Kino: "Bach in Brazil" mit Edgar Selge: Barocke Musik statt Frust im Knast
Die universelle und verbindende Kraft der Musik hat immer wieder auch geholfen, benachteiligten jungen Menschen ihren Weg ins Leben zu ermöglichen
Pacific Standard
More Evidence of the Psychological Benefits of Choral Singing
New research finds it fulfills deep-seated needs of bonding with a group
Arts and letters
2016 Music Award Winners: Seventeen Composers Receive Awards Totaling $205,000
The American Academy of Arts and Letters announced today the seventeen recipients of this year's awards in music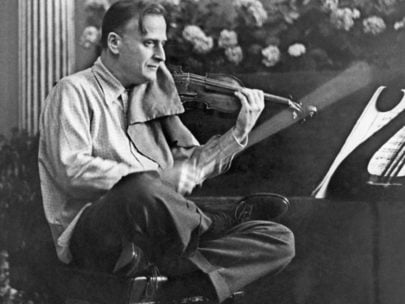 Yehudi Menuhin rehearses in a yoga pose in the 1950s AFP/Getty
 @ace_national New Blog:Art and culture can transform areas, we all need to shout about it #culturematters http://bit.ly/1TRC2VL  
@ClassicFM We're about to reveal the name that Owain Arwel Hughes has picked for his dad's composition: http://classfm.co/VndnWd  
@BBCRadio3 Stars, space food & a cornucopia of women composers: Maggie Aderin-Pocock #EssentialClassics http://bbc.in/1nCiIx3