Classical News
Classical Music Magazine
Belfast Council commits £100,000 as 'Save The Ulster Orchestra' campaign continues
Belfast City Council has offered a conditional £100,000 to the troubled Ulster Orchestra, which remains some distance from securing a £500,000 rescue package which it says is necessary to prevent its closure next year.
The Strad
Violinist Renaud Capuçon named artistic director of Swiss festival
The French artist heads the Sommets Musicaux de Gstaad from its 2016 edition
Russian violinist Aylen Pritchin wins Long-Thibaud-Crespin Competition
The 27-year-old receives a cash prize of €25,000
International Arts Manager
Alyson Cambridge is first opera performer at Soul Train Awards
Soprano Alyson Cambridge will become the first opera singer to perform at the Soul Train Awards, when she appears at the event on 30 November.
Sinfini
Backstage: Opera North's La traviata
Giving a photographer unlimited access backstage at the opera is like letting a child loose in a sweetshop. Tom Arber took up residence with Opera North as they prepared for a new production of Verdi's La traviata: the results can be seen in an exhibition at the White Cloth Gallery in Leeds until February 2015.
Pizzicato
Cellist Friedrich Kleinhapl gründet Verein zur Unterstützung von Kindern mit Gehörminderung
Das Ziel des gemeinnützigen Vereins 'Get a Hearing' ist es, durch Benefizkonzerte Hörhilfen finanzieren zu können, die Kinder mit Hörproblemen dringend benötigen, um dem Unterricht folgen zu können, die aber von den Krankenkassen nicht finanziert werden.
Klassik.com
Lockenhaus-Gründer Josef Herowitsch ist tot
Herowitsch leitete von 1981 bis 2011 mit Gidon Kremer das Festival
Crescendo
Video der Woche: Aus eins mach 12
Wir finden: eine lustige Idee, die hier videotechnisch beeindruckend umgesetzt ist! Dieses Video hat großen Unterhaltungsfaktor – nicht nur für Hobby-Cellisten!
The New York Times
As Music Streaming Grows, Spotify Reports Rising Revenue and a Loss
Spotify, the company that has come to symbolize the growth of streaming music around the world, had more than $1 billion in revenue in 2013.
Pizzicato
Mezzos And Baritones Lead At The Antonin Dvorak International Singing Competition
Singers from 20 countries (Australia, Azerbaijan, Belgium, Belarus, Croatia, Czech Rep., Estonia, Germany, Great Britain, Italy, Japan, Poland, Russia, Slovakia, Serbia, South Korea, Sweden, Tunisia, Ukraine, Unites States) competed in various categories.
Twitter
Royal College Music ‏@RCMLatest: Now on Flickr: photos of composer Brett Dean working with the RCM Symphony Orchestra last week http://bit.ly/1y0pHDm 
Wigmore Hall @wigmore_hall: How do you make an orchestra's viola section smile? Programme 'Harold in Italy'. #violajokes http://bit.ly/1E8bQfF  #WHViola
Classic FM @ClassicFM; Many thanks to cellist @corinnemorris for joining us for our web chat this morning. Read what she had to say here: http://classfm.co/fTktPW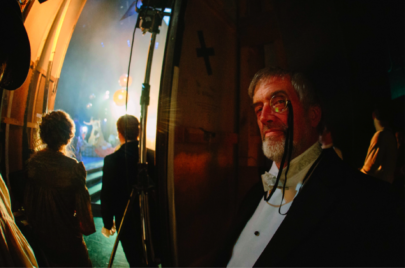 Edward Thornton, a founding member of the Opera North chorus, awaits his entrance. Photo: Tom Arber