In today's news Radio 3 are considering removing BBC branding from new podcasts to encourage more young people to listen. The winner of the 2017 Cliburn Competition has been announced, and a new platform for classical music has won the distribution & discovery category of Midem's competition for start-ups.
Guardian
Orchestral manoeuvres in the dark: can stealth podcasts make classical cool?
Radio 3 is considering removing BBC branding from its new podcasts to trick young people into listening. Bravo!
International Piano
2017 Cliburn Competition winners announced
Yekwon Sunwoo, a 28-year-old pianist from South Korea, has won the Gold Medal in the 15th Van Cliburn International Piano Competition in Fort Worth, Texas
Classical Source
Liam Neeson and Tamsin Greig to perform new 'Power of Music' monologues for BBC Music Day
Six short monologues have been co-commissioned by BBC Radio 3 and BBC Writersroom to mark BBC Music Day 2017
Billboard
Midemlab Winner TrueLinked: A One-Stop Platform for Classical Musicians
Classical music is not the most common topic of discussion at Midem, but TrueLinked, a platform created specifically to aid the interaction of classical musicians with bookers and arts organizations, was the winner in the distribution & discovery category of Midemlabs, Midem's competition for start-ups
Classic FM
Pregnant pianist to be deported because of changes to NZ visa rules
Saber Xie from China has lived in the country since 2013 and been on a skilled migrant visa since last year – but changes to the rules mean she may have to leave
Broadway World
Crested BUTTE MUSIC FESTIVAL Offers Chamber Music Paired with Beer and Big Gay Ice Cream
The picturesque festival in the mountains of Colorado offers an unspoiled summer destination for bluegrass, opera, classical music, dance, children's programs, and more
The New York Times
National Endowment for the Arts Names 2018 Jazz Masters
The National Endowment for the Arts on Monday announced its class of 2018 Jazz Masters, awarding the annual fellowship to a broad range of honorees at various stages of their careers.
Klavier.de
Brahms-Preis für Christoph Eschenbach
Der Dirigent und Pianist Christoph Eschenbach ist mit dem Brahms-Preis 2016 ausgezeichnet worden, der von der Brahms-Gesellschaft Schleswig-Holstein verliehen wird.
Pizzicato
Conductor's epidemic spreads out – Two further cancellations
The conductor's epidemic, which we reported about yesterday, is spreading out. The London Symphony communicates: Michael Tilson Thomas is unwell and has been advised not to fly to Finland for an LSO concert in Lahti today.
Klassik.com
Georges Bizets Haus in Bougival soll zur Erinnerungsstätte werden
Das Haus des Komponisten Georges Bizet, in dem der französische Komponist unter anderem 1874 seine weltberühmte Oper "Carmen" komponierte, soll gerettet und zur Erinnerungsstätte umgebaut werden.
Musik Heute
Lichtkünstlerin rosalie mit 64 Jahren gestorben
Die deutsche Bühnenbildnerin rosalie, geborene Gudrun Müller, ist am Montag im Alter von 64 Jahren in Stuttgart gestorben. Das teilten die Hamburgische Staatsoper und ein Freund der Familie mit.
France musique
Évacuation des spectateurs et accusations de viol à l'Opéra de Rouen
Vendredi 9 juin, le parquet de Rouen a ouvert une enquête suite à des incidents survenus la veille à l'Opéra qui ont entraîné temporairement l'évacuation d'un millier de spectateurs.
El Mundo
Los Veranos de la Villa se expanden con 90 citas en 60 espacios de todo Madrid
El ciclo cultural de verano del Ayuntamiento, cuya programación de 2017 se ha presentado hoy y que se desarrollará entre el 30 de junio y el 3 de septiembre, renuncia a los golpes de efecto mediáticos para ofrecer 90 espectáculos repartidos por toda la ciudad y que son mayoritariamente gratuitos
Twitter
M Magazine‏ @M_magazinePRS .@UMusicuk announces the new MD of its Globe: Soundtrack & Scores division with @AbbeyRoad – http://ow.ly/jNnU30cxTVf  #soundtracks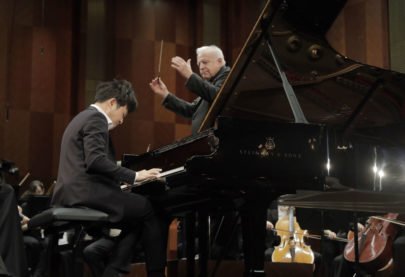 Yekwon Sunwoo, winner of the 15th Van Cliburn International Piano Competition. Photo: International Piano