Innovative virtuoso violinist Eric Silberger is the latest addition to WildKat PR's roster. A protégé of Lorin Maazel, Silberger is already the recipient of many prestigious awards including: the XIV International Tchaikovsky Competition and the Michael Hill International Violin Competition in 2011.
Having been described as 'spine-tingling…astonishing' (The Guardian), Eric is well known for his unconventional performances and new approach to playing both in terms of geography and technology. In 2014, Eric performed the first ever violin recital inside a volcano as an imaginative reaction to the disruption to flights the ash cloud from Iceland's Eyjafjallajökull caused to him and many others, back in 2010. Eric also seeks to synchronise new digital techniques with the established classical music industry and began to do this by using a GoPro camera to record video footage of himself playing in order to provide the audience with a performer's viewpoint.
Eric also has a strong entrepreneurial spirit, from which he co-founded the chamber group Castleton Chamber Players, which regularly performs at the Castleton Festival. As well as this, he has established his own online business, Jukubox.
Silberger began his musical education at five years old and went on to study at the Juilliard School. He upholds a busy international touring schedule and he has performed at some of the world's most prestigious concert halls such as Carnegie Hall and The Moscow International House of Music, amongst others. He has also played with the likes of the Chamber Orchestra of the Mariinsky Theatre and the Cincinnati Symphony Orchestra. That he is making time in 2015 to perform in Europe (Spain, Denmark and the UK) is a real treat and this rare opportunity is not to be missed.
Follow Eric on his website, Twitter and Facebook pages.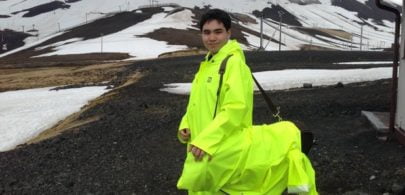 Eric Silberger at Iceland's Thrihnukagigur volcano. Photo: Classic FM