We are pleased to announce Christopher Gunning; internationally renowned Bafta and Ivor-Novello award winning TV and Film composer. Christopher is now building his 'concert' music repertoire with his music described as "resourceful and imaginative" by Gramophone, showing "tension, drama, a real sense of purpose" by Music Web International.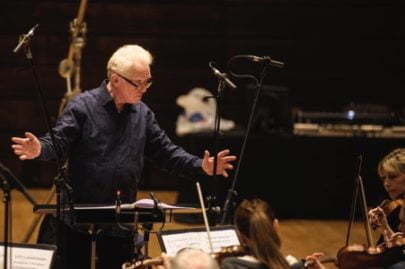 Christopher is well known for his film and TV credits having won four BAFTA awards for Agatha Christie's Poirot, La Vie en Rose, Middlemarch and Porterhouse Blue, and three Ivor Novello awards for Rebecca, Under Suspicion, and Firelight. In his concert music he has developed an individual yet approachable, colourful, and highly expressive language which frequently gives his music a strongly dramatic and emotional flavour.
Having studied composition at the Guildhall School of Music and Drama with Edmund Rubbra and Sir Richard Rodney Bennett, Christopher has enjoyed a career that has developed over some fifty years. He has composed film and TV scores, commercials, and now eleven symphonies and concertos for Flute, Guitar, Clarinet, Oboe, Piano, Violin, Cello, and other orchestral and chamber works.
Christopher also loves conducting and composing and thrives on working with performers and ensembles such as guitarists John Williams and Craig Ogden, violinists Anja Bukovec and Harriet Mackenzie, cellist Richard Harwood, saxophonist John Harle, pianists Olga Dudnik and Diana Brekalo. He has worked with the London Symphony Orchestra, Royal Philharmonic Orchestra, Royal Liverpool Philharmonic Orchestra, BBC Concert Orchestra, BBC Philharmonic Orchestra, the Australian Chamber Orchestra, Manchester Camerata, and Winchester College Choir.
We are thrilled to be working with Christopher on his plans to record and promote his next album including his as yet unrecorded 2nd and 10th Symphonies.