WildKat PR is delighted to welcome composer-pianist Alina K to our portfolio of artists.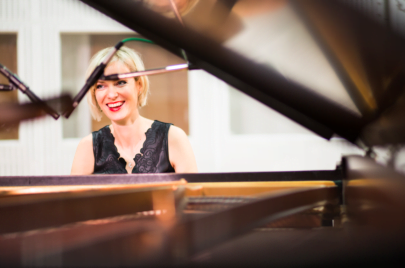 Lithuanian-born Alina K came to London with the intention of developing and building on her piano playing skills, and with a dream that one day she might perhaps be able to turn her passion for music into a full-time career. Having recognised her talent early on, Alina K's friends and family encouraged her to continue with her piano playing, but since she was working full-time in high-end retail concessions, she found very little time to devote to her true passion. However, encouraged by a close friend to compose her own music, Alina K discovered that she had the ability to compose, and this re-ignited her passion and her determination.
After a chance meeting in London with the founder of Vancouver Fashion Week who heard her music, Alina K was twice invited to perform at the opening ceremony of this prestigious event in Canada. With fashion being her second passion, she was delighted to accept this invitation and even more so when, on both occasions, she was unexpectedly asked to model on the catwalk for leading fashion designers.
Encouraged by this and championed and supported by friends and esteemed names across the music industry who recognised the immense potential that she had, Alina K threw herself into composing her own breathtakingly beautiful and emotionally engaging music. With the right people behind her, she became more determined than ever to pursue her dream of making music her full time occupation and of having her compositions used in films and on television. With this in mind, in early 2017 she made the brave and bold decision to leave her full-time day job in order to devote more time to her music.
The risk paid off because in February 2018, Alina K will release her debut EP 'Awakening', comprising four original tracks recorded in Studio Two at the world-famous Abbey Road Studios in North West London. With her refreshingly edgy, stylish demeanour and engaging personality, Alina K really is set to breathe fresh air into the contemporary music world with the launch of her groundbreaking debut EP.