We are delighted to welcome celebrated classical guitarist Artyom Dervoed.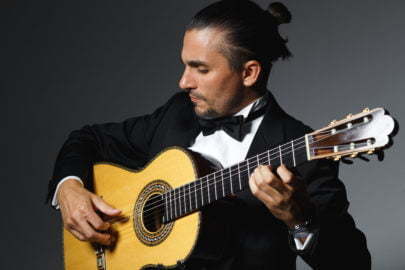 Image: © Kirill Karetin
Having won 16 prestigious awards in various international competitions, Artyom Dervoed is in a class of his own – or in the words of Universe Guitare, he truly is the "Tsar of the guitar".
Born in Russia, Artyom learnt to play the guitar at the age of six with Sergey Annikov, then studied with Elena Svetozarova and Leonid Reznik. He later studied at several high-profile music schools, such as the Schnittke Music College and Gnesin Academy (Moscow), Koblenz Guitar Academy (Germany) with Aniello Desiderio, and Accademia Chigiana (Italy) with Oscar Ghiglia.
A milestone of his career was the release of his album in 2008, featuring Russian guitar music. Released by Naxos, it became one of the top ten bestselling chamber music records worldwide. Artyom Dervoed is a regular guest on the world's most prestigious stages, including the Berliner Philharmonie, Carnegie Hall and Bunka Kaikan.
Among Artyom's many awards is the first prize at the 39th Michele Pittaluga International Classical Guitar Competition in 2006, as well as the H.R.H. Princess Cristina 18th International Guitar Competition in 2009, making him the first Russian to win both competitions.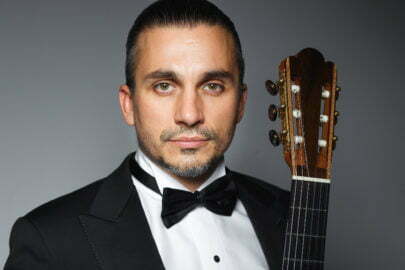 Image: © Kirill Karetin
His efforts in the classical music scene are not only limited to performing and recording amazing interpretations of works – one of his main ambitions is stepping into the footsteps of cellist Rostropovich and violinist Bashmet to present the classical guitar as a first-class solo instrument.
 He also regularly commissions new works and transcriptions to expand repertoires for the classical guitar, leading to world premieres.
Artyom is the founder of the Moscow Guitar Chamber Music Festival in the Bashmet Center and co-founder of one of the most important classical music festivals in the world – the annual Guitar Virtuosi Moscow International Festival, presented by the Moscow Philharmonic Society at the Tchaikovsky Concert Hall. As Artistic Director, Dervoed puts together an exciting program of national and international soloists, chamber and orchestral performances. For this year's 13th edition, which will take place from 20th – 24th March, he will perform the world premiere of a new concerto for guitar and orchestra by contemporary Russian composer Alexander Tchaikovsky.
We are delighted to promote his upcoming performances at the Constella Festival in Cincinnati on February 23rd, 2018 and at the Embassy of the Russian Federation in Berlin on March 28th.
Moreover, Artyom Dervoed is the head of the classical guitar department at the Bashmet Center in Moscow and he teaches at the well-known Gnesin Academy.
"An outstanding figure." La Provence — Dimanche (France)