We are delighted to announce that we will be working once again with acclaimed flautist Katherine Bryan on the release of her new CD, Silver Bow.
Appointed principal flute with the Royal Scottish Orchestra at the age of just 21 and with several successful CDs already under her belt, she certainly is living up to her label as one of Britain's future musical stars.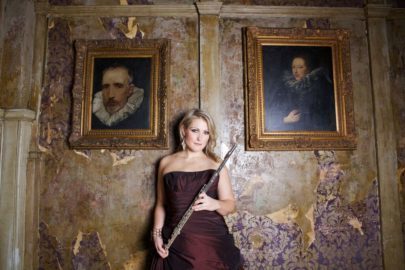 Her new disk is particularly innovative. Keen to highlight the versatility and beauty of the flute, Katherine has taken a selection of violin music and adapted it for the flute. The CD pushes the boundaries of her instrument, using complex techniques to show off the flute rather than imitate the violin in classic works such as The Lark Ascending to Zigeunerweisen.
Her skill and musical interpretation allow the flute to achieve its full instrumental capacity, in her words, 'to transport its listeners through many emotions, evoking numerous sound colours and nuances, and is capable of speaking above an orchestra.'
Silver Bow will be released in the UK on Linn Records on 18th September and is available for pre-order here. In the meantime, keep an eye on her website, Facebook and Twitter for updates, and also on the WildKat blog.