WildKat welcomes Jukka-Pekka Saraste
Jukka-Pekka Saraste began his career as a violinist before establishing himself as one of the most outstanding conductors of his generation, demonstrating remarkable musical depth and integrity. A musician renowned for his objective approach, Jukka-Pekka has always had a special relationship with late Romanticism: Bruckner, Mahler, Shostakovich, Stravinsky and Sibelius.

At the end of the 2018/2019 season, Jukka-Pekka Saraste ended his term as Principal Conductor of the WDR Symphony Orchestra in Cologne. His engagements as guest conductor have taken him to conduct with some of the world's leading orchestras such as the London Philharmonic Orchestra, the BBC Symphony Orchestra, the Leipzig Gewandhausorchester, the Dresden Staatskapelle, the Bavarian Radio Symphony Orchestra, the Royal Concertgebouw Orchestra, the Vienna Symphony Orchestra, the NHK Symphony Orchestra, the Orchestre de Paris, the Boston Symphony, the Chicago Symphony, the Los Angeles Philharmonic, the New York Philharmonic, and the Orchestre symphonique de Montréal.
Passionate about education, Saraste is a founding member of LEAD ! The Orchestra Project. LEAD! aims to teach young musicians conducting and communication skills as part of orchestral rehearsals. Recent LEAD! activities include orchestral projects at the Haute Ecole de Musique de Lausanne, the Aurora Festival in Stockholm and with the Sofia Philharmonic Orchestra.
Jukka-Pekka Saraste's extensive discography include the complete symphonies of Sibelius and Nielsen. The complete cycle of Beethoven's symphonies was published in the spring of 2019 and was very well received by the critics. It can be seen as the legacy of his tenure in Cologne.
WildKat will accompany Jukka-Pekka Saraste this season in its work with the management agency KünstlerSekretariat am Gasteig. Our French office is working on a communication strategy to announce the conductor's return to France in March and May 2020, at the Orchestre de Paris, the Philharmonie de Paris and the Musée d'Orsay.
---
WildKat souhaite la bienvenue au chef d'orchestre finlandais Jukka-Pekka Saraste
Jukka-Pekka Saraste a commencé sa carrière comme violoniste avant de s'imposer comme l'un des chefs d'orchestre les plus remarquables de sa génération, faisant preuve d'une profondeur et d'une intégrité musicale remarquable. Musicien réputé pour son approche objective, il a toujours entretenu une relation particulière avec le romantisme tardif : Bruckner, Mahler, Chostakovitch, Stravinsky ou encore Sibelius.

À la fin de la saison 2018/2019, Jukka-Pekka Saraste a mis fin à son mandat de chef principal de l'Orchestre symphonique de la WDR à Cologne. Ses engagements en tant que chef invité l'ont amené à jouer avec les plus grands orchestres du monde : l'Orchestre philharmonique de Londres, l'Orchestre symphonique de la BBC, le Gewandhausorchester de Leipzig, l'Orchestre symphonique de la radio bavaroise, l'Orchestre du Royal Concertgebouw, l'Orchestre symphonique de Vienne, l'Orchestre symphonique NHK, le Boston Symphony, le Chicago Symphony, le Los Angeles Philharmonic…
Passionné par l'éducation, Saraste est membre fondateur de LEAD ! The Orchestra Project, qui vise à enseigner aux jeunes musiciens la direction musicale et la communication dans le cadre de la pratique d'orchestre. Parmi les activités récentes de LEAD ! figurent des projets d'orchestre à la Haute Ecole de Musique de Lausanne, au Festival Aurora de Stockholm et avec l'Orchestre Philharmonique de Sofia.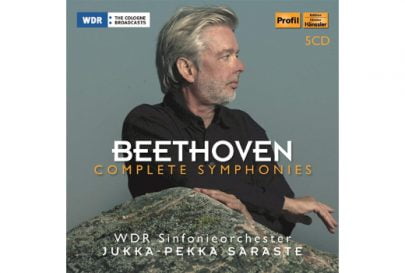 La vaste discographie de Jukka-Pekka Saraste comprend l'intégrale des symphonies de Sibelius et de Nielsen. Le cycle complet des symphonies de Beethoven a été publié au printemps 2019 et a été très bien accueilli par la critique. Il peut être considéré comme l'héritage de son mandat à Cologne.
WildKat va accompagner Jukka-Pekka Saraste sur cette saison dans le cadre de son travail avec l'agence de management KünstlerSekretariat am Gasteig. Le bureau français est en train de travailler à l'élaboration d'une stratégie de communication pour annoncer le retour en France du chef en mars et mai 2020, à la baguette de l'Orchestre de Paris, à la Philharmonie de Paris et au Musée d'Orsay.