The ninth Planet Tree Music Festival kicks off tomorrow, running until 26th October in Hampstead, North London.

Founder and composer Lawrence Ball has curated the festival with the aim of creating an immersive experience for those wishing to connect to a higher sphere through deep engagement with classical music. Audiences are encouraged to lie down, meditate and experience the sound worlds presented, championing an alternative way of listening. The outdated rules employed in traditional concert halls are discarded in favour of a more accessible experience rooted in spirituality and relaxation. 
Similar in format to Max Richter's sold-out 'Sleep', the 2017 Planet Tree Music Festival offers concert attendees the opportunity to lie down and relax into cosmic sound worlds, with a host of international musicians performing music specially written for this year's programme.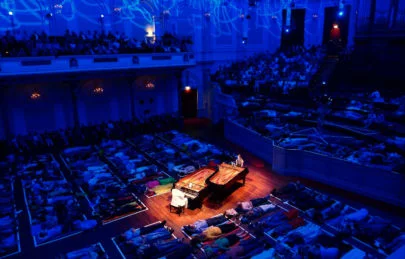 The festival was opened by Terry Riley in 1996, establishing its ethos and reputation as one that showcases tonal, non-elitist contemporary music. The programme deals with the brighter side of contemporary classical music, featuring pieces by popular composers including Max Richter and Arvo Pärt.
Collaborator and performer James D'Angelo says: "The Planet Tree Music Festival has established a new forum for contemporary music that returns music to its spiritual roots and gets people in touch with their souls hungry for impressions of who and what they are… No composer could ask for anything more than the refined atmosphere that is the Planet Tree Music Festival."
Tickets can be purchased on the door of each of the venues, namely the Rosslyn Hill Unitarian Chapel and All Hallows Church, Hampstead. Full concert details can be found here.
WildKat has, so far, secured coverage for Planet Tree Music Festival in PRS M Magazine, Culture Whisper, International Arts Manager, and local newspaper Camden New Journal. Stay tuned for more!