Classical News
Guardian
Classical music in 2014 – still dominated by dead white men's music performed by living white men
Bachtrack's statistics, and Christina Scharff's research, prove yet again that the classical music industry needs to change
Classic FM
Violinist sues repairman for snapping $80k bow
Greek violinist and Gramophone Award-winner Leonidas Kavakos has sued a violin shop in California for allegedly snapping his bow, worth $80,000.
Classical Music Magazine
Who's who in the musical honours ‒ quotes and reaction
While some have questioned the list's failure to fully recognise the quality at the top end of UK music-making (eg no knight/damehoods in sight), there can be little doubting its reflection of the national musical scene at all levels.
Classical Source
A New Baby for Glyndebourne: Danielle De Niese and husband Gus Christie announce they are expecting their first child
World-renowned opera star Danielle De Niese and her husband, Glyndebourne's executive chairman Gus Christie, are thrilled to announce that they are expecting their first child.
Gramophone
Naxos launches new high-definition music streaming and download service
ClassicsOnline HD●LL is specially tailored for classical music listeners
Klassik.com
Opera Australia: Kein Zugang mehr für missliebige Kritiker
Auf Betreiben des künstlerischen Direktors der Opera Australia, Lyndon Terracini, wird mehreren Journalisten, die in der Vergangenheit kritisch über einzelne Produktionen und die Programmpolitik des Hauses berichtet hatten, die Berichterstattung künftig erschwert.
Deutschlandradio Kultur
Monatlich erstellen ehrenamtliche Juroren aus 25 Ländern die Weltmusikcharts – und das seit 1991.
Codex Flores
Konzertstatistiken des Jahres 2014
Die Webseite Bachtrack hat ihre Statistiken zum Klassikbetrieb für 2014 veröffentlicht.
Le Monde
Julien Jalal Eddine Weiss, musicien et compositeur
Le musicien et compositeur français Julien Jalal Eddine Weiss, talent créatif du qanûn (la cithare sur table orientale) et du répertoire savant arabo-musulman, est décédé des suites d'un cancer, vendredi 2 janvier, à Paris, sa ville natale.
Pizzicato
Conductors Are Getting Younger
The average age of the top ten busiest conductors has fallen, with three conductors in their 30s (Nelsons, Dudamel, Nézet-Séguin).
Twitter
nprmusic @nprmusic: How do some of the greatest composers begin their pieces? Test you knowledge in our puzzler. http://n.pr/1xAk2mE 
Barbican Centre @BarbicanCentre: Take a walk with @SinfiniMusic as pianist Benjamin Grosvenor talks about his life, instruments and music http://ow.ly/GRSfZ 
The Royal Opera @TheRoyalOpera: Singing for the truth: What makes the story of #Orfeo so powerful? A closer look: http://www.roh.org.uk/news/singing-for-the-truth-what-makes-the-story-of-orfeo-so-powerful … ^C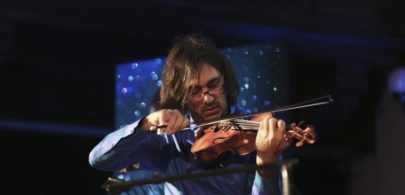 Greek violinist and Gramophone Award-winner Leonidas Kavakos. Photo: Classic FM