WildKat announces major investment and global expansion plans
Creative agency WildKat has received a near seven-figure euro investment by Edition Capital, allowing the company to open offices in Paris, New York and LA in 2019 with Hong Kong set for 2020.
This investment makes WildKat the first and youngest global multi-million-pound company of its kind. The investment is exceptional within the performing arts sector and is a new departure for Edition, who predominantly support companies in the entertainment and leisure sectors.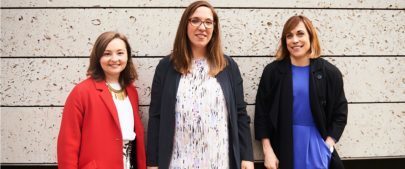 The global expansion of the company will be overseen by an all-female management, with Alder leading the company as CEO supported by Claudia Clarkson who, after joining the agency in January 2019 as director of business development, will move into the global COO role. Joining them is director of London Olivia Brown who, at just 27, moves into the role of director of Europe, overseeing two offices as well as the creation of the new Paris office.
---
Crouch End Festival Chorus presents Young Conductors mentoring scheme
Crouch End Festival Chorus will this year run a mentoring programme for young musicians with a passion for conducting to develop their conducting skills.
Based in Muswell Hill, London and conducted by David Temple MBE since its launch in 1984, Crouch End Festival Chorus is one of Britain's leading symphonic choirs and has a reputation for innovative choral music making, regularly performing at prestigious London venues and with professional orchestras and artists in the classical and contemporary music worlds.

The scheme will run from September 2019 to July 2020, covering one season of concerts with the CEFC, and will offer successful applicants free mentoring sessions with David Temple as well as the opportunity to attend choir rehearsals and management meetings in order to gain an understanding of the work of a choral music director and the management of a symphonic chorus, and to develop their practical skills.
---
Die Niederlande gewinnen den Eurovision Song Contest
Duncan Laurence hat mit dem Lied "Arcade" das Publikum und die Jury überzeugt. So konnte er sich knapp gegen Italien durchsetzen. Deutschland wurde Drittletzter.Die Niederlande haben in Tel Aviv den 64. Eurovision Song Contest gewonnen. Der 25-jährige Duncan Laurence traf mit Arcade den Geschmack des Publikums und der Jury. Laurence sang am Piano sitzend eine Ballade über die schmerzhaften Seiten der Liebe. Allerdings fiel das Ergebnis in dem spannenden Finale knapp aus. Mit 492 Punkten hatte Laurence nur 27 Punkte mehr als Italien. Auf Platz drei kam Russland.
The Netherlands win the Eurovision Song Contest
Duncan Laurence won over the audience and the jury with the song "Arcade". He prevailed by a small margin against Italy. Germany was third from last.
The Netherlands won the 64th Eurovision Song Contest in Tel Aviv. Sitting on the piano, Laurence sang a ballad about the painful sides of love.