WildKat PR is pleased to welcome Orpheus Sinfonia to its client roster ahead of the launch of their new concert series 'Beneath the Score'.
The Orpheus Sinfonia was founded in 2008 with the aim of providing opportunity and support for exceptionally talented musicians emerging from study into the profession. Under the artistic direction of international cellist and conductor Thomas Carroll, Orpheus Sinfonia is establishing itself as one of the most vibrant, dynamic and inspiring of young orchestras. Soloists to date include Tamsin Little OBE, Dame Felicity Lott, Jack Liebeck and EMI artist Xeu-Fei.
November sees the launch of 'Beneath the Score', a series created, presented and conducted by Thomas Carroll. 'Beneath the Score' is designed to bring classical music to life by taking the audience on a journey of exploration through a composer's life, their muses and historical context. Through narration, musical excerpts, influential images and readings, each musical work is brought to life in it's own unique way.
By exploring this history, Orpheus Sinfonia open new doors to those not yet in love with the power of classical music, and at the same time enrich the knowledge and appreciation of those already more familiar with the art form.
Orpheus Sinfonia's upcoming concert Revolution: The Beethoven Effect, takes place at St. George's Church, Hanover Square, on 27 November at 7.30pm.
Orpheus Sinfonia will spend an evening exploring how Beethoven transformed classical music, inspired and daunted all those who came after him, and produced such great works of art, instilled with visions and beliefs. Orpheus will perform excerpts from each of his symphonies, and The Eroica Symphony will be performed in its entirety in the second half.
The audience will also hear readings from Beethoven's fascinating letters, read by actor Michael Bodie. To bind this all together there will be a brief narrative coupled with some beautiful projected images. There is a 50% discount on all tickets for full-time students and all under-25s.
For more updates on Orpheus Sinfonia, visit their website, Twitter and Facebook.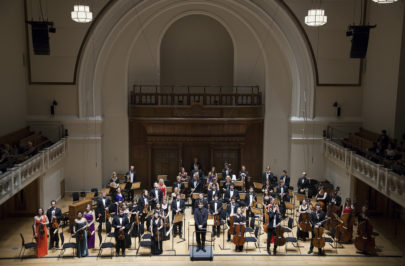 Orpheus Sinfonia performing at Cadogan Hall