WildKat PR is delighted to welcome back Music@Malling for the fourth time. Music@Malling brings world-class artists to historic local venues in West Malling, Kent, combining a hugely successful outreach programme with a firm commitment to new music. This year sees the seventh iteration of the festival, in which 24 events will take place over 10 days, featuring music of leading contemporary composers, alongside classical, jazz and folk music. The festival aims to engage with the local community through education and outreach work and to provide events that both enrich and entertain audiences. Music@Malling aspires to develop innovative and creative projects that are of high quality and that raise the profile of music. The artists are involved in mentoring and supporting young musicians and composers across Kent.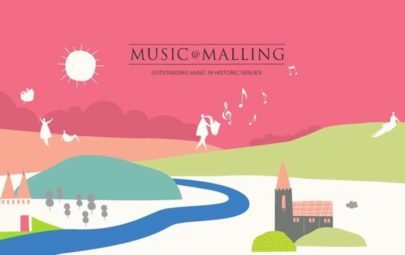 Music@Malling
This year, outreach work includes 1400 primary school children from 16 schools partaking in a project focusing on Roald Dahl's Revolting Rhymes as well as 480 children performing in four concerts alongside the festivals resident ensemble, Chamber Domaine, and narrator Matthew Sharp. Furthermore, in conjunction with Sound and Music, Go compose!, gives 10 young composers from Kent the opportunity to compose a piece of music that is performed and recorded in one day under the expert guidance of Simon Pearce (Royal College of Music and Purcell School) and Chamber Domaine. The festival also offers Meet the Composer events with composers such as Alexander Goehr and Paul Patterson, and mentoring workshops with the Artistic Director of Ronnie Scott's, James Pearson.
Concerts will include Chamber Domaine performing Vaughan Williams' Fantasia on a Theme by Thomas Tallis and Messiaen's Quartet for the End of Time. Artists range from harpsichord player Steven Devine, violinist Thomas Bowes to guitarist Craig Ogden performing Bach, Dowland, Britten, and Albeniz. Flute player Sami Junnonen will perform music by Bach, Sciarrino, Debussy, Berio, Takemitsu, as well as the premiere of a new work by Tomi Räisänen.
Thomas Kemp, Artistic Director, says: 'Our seventh festival promises to be our best yet with a wide range of music and lots of interesting programmes and opportunities for music lovers young and old. Contemporary music by Alexander Goehr and Paul Patterson rubs shoulders with works by Bach, Mozart, Elgar, Vaughan Williams and Gershwin as well as jazz, world, folk and vocal music across 24 events. I am particularly proud of our work with local schools –engaging young people in creative activities – many for the first time.'