WildKat PR is excited to welcome Lizzie Ball to our roster. A truly gifted artist, Lizzie Ball is a classical trained violinist and vocalist. She is known for creating Classical Kicks, a series of shows that was established at London's famous Ronnie Scott's, as well as a number of other exciting collaborations. The series centres on broadening peoples'horizons for classical music by combining classical music performances at the highest level with a down-to -earth approach that allows everyone to engage with the genre.
This sums up what Lizzie is all about: She thinks outside the box to create opportunities for people to listen to stunning music while looking past all the usual conventions. She is always open to fresh and different approaches and thus her performances are always one of a kind.
Her exceptional musical skills are paired with an exuberant energy that immediately captivates the audiences. Her sounds are a combination of jazz, world, folk, bluegrass, rock and, of course, classical music. She delivers a modern and creative touch, combining all the musical impacts in her life and sharing it with the audiences. Through this she is rejuvenating the fundamentals of the classical genre. Her skills, her improvisation, her expression are the driving factors of finding a new sound, and a new perception. To quote Lizzie:
"I love creating an experience. It's about connecting the music with the audience always. Whether it's through my violin, my singing or when producing concert performance formats."
Lately she has been working on a new show Viva la Vidacon Frida. This multi-media presentation is a musical journey through the life, times, art of Frida Kahlo which consists of part-concert, part talk, part imagery. Together with Mexican guitarist Morgan Szymanski, the duo play Mexican folk songs, jazz songs and classical compositions, that relate to the life of Frida Kahlo. The show also includes a live specially curated film that shows Frida Kahlo's art, and images of the female icon aswell as Mexican imagery and illustration.
Besides her own projects, Lizzie has also been featured extensively as a classical performer with the BBC Proms, the Berliner Philharmonie and at Wigmore Hall. She has worked extensively with Nigel Kennedy, becoming the concertmaster of his orchestra of life. Her experiences in the world of rock and pop have earned her collaborations with artists, such as Jeff Beck and Brian Wilson. As a session musician, she has worked with a number of artists including Seal, Adele, Kylie Minogue and Kanye West.
She can transition between genres and styles like no other artist and through those abilities she is creating something new and exciting every step of the way.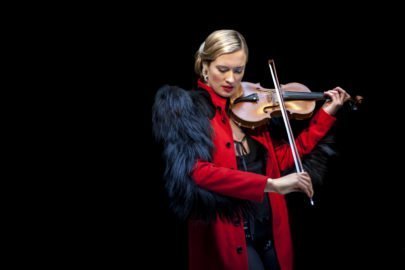 Lizzie Ball ©Silvia Cruz
Merken
Merken