WildKat PR is delighted to welcome Philharmonix to our roster! Philharmonix is an all-star ensemble, which brings together 3 members of the Vienna Philharmonic, 2 Berlin Philharmonic soloists, one of the most versatile Austrian pianists, and an improvising and singing violinist. They play and rearrange pieces for a deliciously heady cocktail of classical, klezmer, folk, jazz, Latin, and even pop – the kind of repertoire one would never see on the playbill of the legendary orchestras. The common link between all of the pieces? The quality of the music and the sense of fun, for both the players and the audience.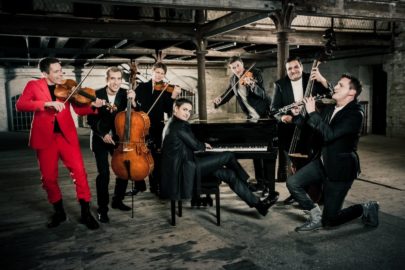 Photo: Philharmonix
©

Max Parovsky

Having lost and gained new members in 2017, Philharmonix is now presenting a brand new image to the audience, along with their new album, to be published by Deutsche Grammophon / Universal Music Austria at the end of February 2018. To accompany this new start, they'll be giving a concert at the Berlin Philharmonie on 14th February.

Watch here their brand new video:

The musicians:

– Noah Bendix-Balgley, violin (1st concertmaster Berlin Philharmonic)
– Sebastian Gürtler, violin (former concertmaster Wiener Volksoper)
– Thilo Fechner, viola (Vienna Philharmonic)
– Stephan Koncz, cello (Berlin Philharmonic)
– Ödön Rácz, bass (principal, Vienna Philharmonic)
– Daniel Ottensamer, clarinet (principal, Vienna Philharmonic)
– Christoph Traxler, piano

The Golden Rule of the Philharmonix' programmes: "Anything goes, as long as it's fun"!

WildKat is looking forward to promoting this great ensemble through this new album and the Berlin concert, across German-speaking countries and the UK. Stay tuned, there is definitely more to come soon!