A warm welcome to the latest artist joining the WildKat family, classically-trained pianist Theodosia Ntokou.
Often you hear people talking about artists being passionate and determined about their art, but it isn't always obvious what that actually means. If you look at the life and work of Theodosia you get a glimpse of what it means to truly be an artist dedicated to their craft. Growing up in Greece, she travelled nearly every weekend from Rhodes to Athens for a one-hour music lesson at the National Conservatory, a 600km journey across land and sea.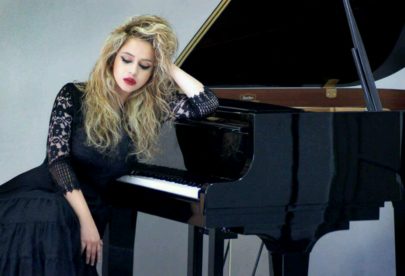 Foto: Vesna Dakic


After graduating with honours, Theodosia continued her studies with Hungarian pianist Laszlo Simon at the Universität der Künste Berlin and while undertaking a postgraduate degree from the Franz Liszt Academy of Budapest. She then moved to the USA where she completed her master's degree with Russian pianist Oxana Yablonskaya at the Juilliard School in New York City, followed by an assistantship at the University of Hartford (The Hartt School).

In 2009, Theodosia met legendary pianist Martha Argerich for the first time and since then has become her protégé and remains under her guidance to this day. Together, they perform around the globe and are celebrated by audiences and critics alike.


Theodosia has won awards at several competitions such as the Young Artists International Piano Competition (2006) and the Bradshaw & Buono International Piano Competition (2007). In 2008, she received the Evelyn Bonar Scholarship Award. She performs in festivals across Europe, collaborating with famous orchestras such as the Amsterdam Sinfonietta and made her debut at the Carnegie Hall and the Berliner Philharmonie, amongst many others.
In the spring and summer of 2018, Theodosia will perform at prestigious venues including Gasteig Munich on March 18th and the Gewandhaus Leipzig and festivals including the Athens & Epidaurus Festival and the 55th International Piano Festival of Brescia and Bergamo.