What? Wimbledon Music Festival 2010 – Claire Martin and Sir Richard Rodney Bennett
Where? Wimbledon Synagogue, London
When? Tuesday 16th November, 19.30 (click to purchase tickets!)
The cabaret duo Claire Martin and Sir Richard Rodney Bennett will be performing at the Wimbledon Music festival, which is held from November 13th to 28th. This performance is for all you jazz lovers and for those of you who want to thank Sir Richard Rodney Bennett for composing scores for some legendary British films such as Four Weddings and a Funeral. He is also no stranger to appearing in jazz duos as he has demonstrated his skills as a jazz pianist and singer with Marion Montgomery, Dames cleo Laine, Mary Cleere and Annie Ross. Claire Martin is his latest partnership and since Sir Richard has been a New York resident since 1976, it will be a few years to have an opportunity like this arise again.
Extra:
As this instalment of Unmissables is for November 15th-30th it is worth suggesting that you check out the Wimbledon Music Festival, as mentioned above. It runs November 13th-28th and there are music events of all kinds for you to enjoy. It's a good chance to socialise with your friends and to see a vast array of talent.
---
What? Juice Vocal Ensemble
Where? Handel House Museum
When? Thursday 18th November, 18.30 (click to purchase tickets!)
The Handel House Museum has featured in the Unmissables before, it is an intimate setting and a must see for classical music lovers, as you will get to see inside the famous composers home. Juice Voice Ensemble (who performed at our Young Artists Showcase at The Forge) are a unique, experimental and most importantly fun, a cappella trio. Their musical leanings vary from world music, jazz, folk and pop, fused with their alternative-classical style performances. Their programme will no doubt be adventurous and innovative and they will also be premiering a new work by Composer-in-Residence, Duncan MacLeod.
---
What? Badke Quartet – Hattori Foundation Rush Hour Recital
Where? 1901 Arts Club, SE1 8UE
When? 22nd November, 19:00 (click to purchase tickets!)
Hattori Foundation was established as an Educational Trust by the Hattori Family and granted charity status in 1992. The aim of the Foundation in the field of music is to encourage and assist exceptionally talented young instrumental soloists or chamber ensembles who are British Nationals or resident in the UK and whose talent and achievements give promise of an international career. After the concert guests are invited to join the artists in the Club's exclusive bar.
---
What? Youtuba– Tuba Quartet
Where? The 1901 Arts Club
When? Tuesday 23rd November, 19.30 (click to purchase tickets!)
The 1901 Arts Club is based in Waterloo, it is an intimate performance space which offers the audience a wonderful experience, as this is a Tuba quartet this will really be something to see in this space. YouTuba are  a highly acclaimed and young tuba quartet, founded in 2006 and are highly talented fun to watch. This concert will feature Saint-Saëns Carnival of the Animals, arranges by Hepple, with the recognisable pieces and the funny orientation of this ensemble, it will be hard to not continuously smile throughout this performance.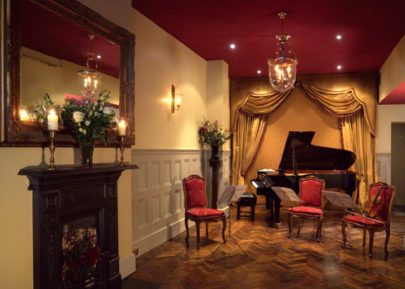 ---
What? Nicola Benedetti with the RPO – The Great Classics: Elgar, Bruch, Holst
Where? Royal Albert Hall
When? Thursday 25th November, 19:30 (click to purchase tickets!)
Although he composed several choral and orchestral works, Bruch's fame today rests largely on one phenomenally successful piece – Violin Concerto No.1 in G minor. Richly melodic and sumptuously orchestrated, this enchanting work is beloved of performers and audiences alike. The Concerto is framed by two English masterworks – Elgar's unashamedly romantic celebration of London and Holst's extraordinary The Planets. The Suite embraces the martial, the magical and the mystical, with its terrifying visions of war in Mars and the rollicking Jupiter, which gave to the world the song I Vow to Thee, My Country.