Gateways Music Festival awarded $800,000 from Andrew W. Mellon Foundation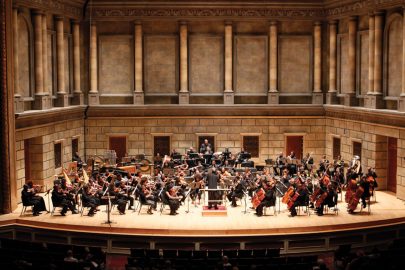 Gateways Music Festival has today announced, in association with the Eastman School of Music, the receipt of an $800,000 award from the Andrew W. Mellon Foundation. The organization, which works to connect and support professional classical musicians of African descent, plans to use the award not only to assist its ongoing growth, but to support its historic Carnegie Hall debut.
Gateways' board chair Kearstin Piper Brown expressed the organisation's gratitude: 'This award is a powerful confirmation of The Andrew W. Mellon Foundation's belief in Gateways' unique mission, and it acknowledges our importance in today's classical music ecosystem. The lack of Black classical musicians on American concert stages is concerning for all of us, and Gateways is proud to provide a supportive and affirming artistic home for our musicians, enabling them to continue to thrive in their careers.'
---
Trauer um Dirigent Bernard Haiting
Der niederländische Dirigent Bernard Haitink ist im Alter von 92 Jahren gestorben. 27 Jahre lang leitete Haitink das Amsterdamer Concertgebouw-Orchester. Nachdem er Amsterdam 1988 verlassen hatte, leitete Haitink 14 Jahre lang die Royal Opera in London. Er war auch musikalischer Leiter des Opernfestivals in Glyndebourne, Chefdirigent des London Philharmonic Orchestra, der Staatskapelle Dresden und des Chicago Symphony Orchestra.
Er war Ehrenmitglied der Berliner Philharmoniker und des Chamber Orchestra of Europe. Haitink leitete zahlreiche Konzerte mit den Berliner Philharmonikern und den Wiener Philharmonikern, zudem verantwortete er etwa 450 Plattenaufnahmen. Im September 2019 gab Haitink mit den Wiener Philharmonikern in Luzern sein letztes Konzert.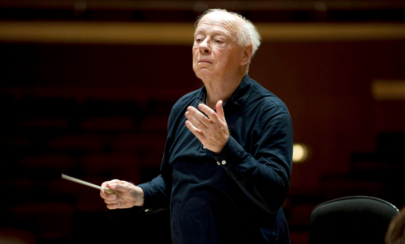 In Honour of Bernard Haitink
The Dutch conductor Bernard Haitink has died at the age of 92. Haitink led the Amsterdam Concertgebouw Orchestra for 27 years. After leaving Amsterdam in 1988, Haitink led the Royal Opera in London for 14 years. He was also musical director of the Glyndebourne Opera Festival, principal conductor of the London Philharmonic Orchestra, the Staatskapelle Dresden, and the Chicago Symphony Orchestra.
He was an honorary member of the Berlin Philharmonic and the Chamber Orchestra of Europe. Haitink has conducted numerous concerts with the Berlin Philharmonic and the Vienna Philharmonic, and has also been responsible for some 450 recordings. Haitink gave his last concert with the Vienna Philharmonic in Lucerne in September 2019.
---
Edita Gruberova est morte
Au terme d'une carrière de plus de cinquante ans, la soprano d'origine slovaque s'est éteinte à l'âge de 74 ans. Comme les divas du siècle romantique, elle était capable de déchaîner les passions contraires. Née en 1946 à Bratislava, Edita Gruberova s'exile dès 1971 de la Tchécoslovaquie communiste, pour mener carrière de l'autre côté du Rideau de fer. Sa vraie nature était celle d'un soprano colorature, se targuant d'aigus stratosphériques et d'une technique hors pair qui la destinaient naturellement à la Reine de la nuit et à Zerbinetta dans Ariane à Naxos.
Ce sont d'ailleurs ces deux rôles qui la propulseront, à la scène comme au disque : elle a enregistré La Flûte enchantée trois fois en studio (sous la direction d'Alain Lombard, de Bernard Haitink et de Nikolaus Harnoncourt), chanté l'opéra de Strauss plus de deux cents fois à Vienne, notamment avec Karl Böhm (un DVD en témoigne, DG). Mais étonnamment, c'est en incarnant Rosina dans le Le Barbier de Séville, La traviata ou Gilda dans Rigoletto qu'elle avait fait auparavant ses débuts, au Théâtre de Banská Bystrica où elle reste en troupe de 1968 à 1970.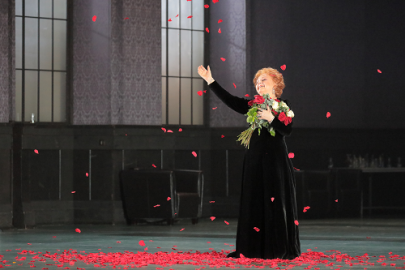 In Honour of Soprano Edita Gruberova
After a career of more than fifty years, the Slovakian-born soprano passed away at the age of 74. Like the divas of the romantic century, she was capable of unleashing opposing passions. Born in 1946 in Bratislava, Edita Gruberova left communist Czechoslovakia in 1971 to pursue her career on the other side of the Iron Curtain. Her true nature was that of a coloratura soprano, boasting stratospheric high notes and an unparalleled technique that naturally destined her for the Queen of the Night and Zerbinetta in Ariadne auf Naxos.
It is these two roles that propeled her, both on stage and on recordings: she has recorded The Magic Flute three times in the studio (under the direction of Alain Lombard, Bernard Haitink and Nikolaus Harnoncourt), and has sung Strauss's opera more than two hundred times in Vienna, notably with Karl Böhm (a DVD bears witness to this, DG). But surprisingly, it is by incarnating Rosina in The Barber of Seville, La traviata or Gilda in Rigoletto that she had made her debut, at the Theatre of Banská Bystrica, where she remained in the company from 1968 to 1970.
---
Two New York Orchestras Return With Acts of Renewal
How should classical music ensembles return to live performance after 18 months of pandemic closures and a nationwide reckoning with racial injustice?It's a question that has loomed as programmers decide whether to open their seasons with statements of purpose. Recently, two major New York groups — the Orchestra of St. Luke's and the Orpheus Chamber Orchestra — returned with what appeared to be mostly standard fare that could come across as timid missed opportunities, yet offered exceptionally fine and committed music-making that felt like acts of renewal.
At Carnegie Hall last Thursday, Bernard Labadie, the music director of St. Luke's since 2018, warmly greeted the audience and explained that when he and the players started planning their program, "one word jumped out: joy." This concert was all about having some fun, he added, and Handel's "Water Music" is "the happiest music I know."
---
Also in the News…
Opera North Appoints David Collins As New Executive Director/ Deputy CEO
Emiko Yuasa gewinnt den internationalen Hindemith Viola-Wettbewerb
Emiko Yuasa wins the International Hindemith Viola Competition
Louis Langrée nommé à la tête de l'Opéra Comique
Louis Langrée appointed to head the Opéra Comique
---
On a Lighter Note…
Age-defying mystery pianist stuns crowd with virtuosic Liszt on street piano