Classical News
In today's news Clemens Trautmann has been appointed as the new president of Deutsche Grammophon. BBC Music have launched the Ten Pieces Secondary film, with presenters including James May and Pixie Lott. Also, Yo-Yo Ma has won a prestigious award given by the Academy of Music for his promotion of the works of Dvořák.
Classic FM
Yo-Yo Ma wins top Czech music prize
Cellist honoured for his promotion of the works of Dvořák
Classical Music Magazine
Clemens Trautmann appointed president of Deutsche Grammophon
Senior media executive and award-winning Juilliard scholar Clemens Trautmann is to take over operational management of the classical label.
Classical Source
BBC Music Launch Ten Pieces Secondary Film
BBC Music has today announced the presenters for its brand new Ten Pieces Secondary film, which will launch for schools in cinemas across the UK in October.
Arts Professional
Jeremy Corbyn plans to reverse arts funding cuts
The Labour leadership candidate has outlined his national strategy for the arts, which includes reversing arts cuts, introducing minimum fees for performances and exhibitions and setting up a cabinet committee on the arts.
The Spectator
Orchestral conductors would be much better if they tried performing Renaissance music
Peter Phillips on his not entirely successful attempts to persuade orchestral conductors to take on the great choral masterpieces of the Renaissance
Der Tagesspiegel
Musikfest Berlin: Wolfgang Rihm im Interview "Schönberg knirscht vor Kraft und Gegenwart"
Ein Gespräch mit dem Komponisten Wolfgang Rihm über Arnold Schönberg, zeitlose Klassiker und das Sinnliche in der Musik.
Die Welt
Auschwitz-Prozess mit Streichquartett
Der Komponist Frederic Rzewski ist ein noch zu entdeckender Unbequemer der Moderne. Sein Kammermusiktheater "Der Triumph des Todes" erlebte beim Kunstfest Weimar seine deutsche Erstaufführung.
Musik heute
Barenboim erfreut über Publikumszuspruch – Plädoyer für moderne Musik – Musikfest Berlin beginnt
Der argentinisch-israelische Dirigent und Pianist Daniel Barenboim (72) freut sich über das "wunderbare Geschenk", dass seine Konzerte noch immer besucht werden. "Man könnte denken, dass nach 65 Jahren das Publikum sagt: 'Es reicht, warum sollen wir noch einmal kommen, das habe ich schon gehört, lass uns etwas Neues hören.'
France Musique
Zubin Mehta s'émeut du sort des réfugiés en Europe
Le chef d'orchestre indien Zubin Mehta fustige les leaders occidentaux pour leur absence de réaction concrète. Le maestro  se dit très touché par le sort de ces millions de réfugiés fuyant la  Syrie et l'Irak.
The New York Times
The National Music Museum, an Unlikely Eden in South Dakota
As you walk toward the cello believed to be the oldest in the world, the nearly 500-year-old instrument has its back turned to you. But the discourtesy grows forgivable on approach: The Amati "King" cello's rear side is its most seductive feature, with richly colored paintings — crowns, winged putti, columns, fleurs-de-lis, Justice hoisting a sword — that take on glowing depth beneath the varnish.
Twitter
The Royal Opera ‏@TheRoyalOpera: Es Devlin, the designer who works with @kanyewest, @U2 and… us ^E http://bit.ly/1UnMvsu 
BBC Press Office ‏@bbcpress: .@BBCMusic launches #TenPieces Secondary film with presenters incl @MrJamesMay & @PixieLott http://bbc.in/1JPumsm 
Classical Music ‏@ClassicalMusic_: .@edintfest director @FergusLinehan on the city's need for a new medium-sized concert hall (via @edinburghpaper): http://bit.ly/1hU9kD4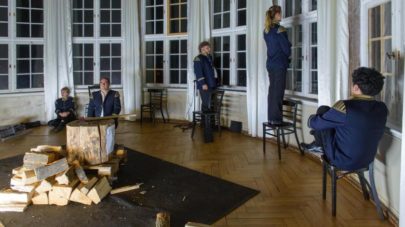 An opera about Auschwitz… Kunstfest Weimar welcomes Frederic Rzewski's disturbing work. Photo: Nationaltheater Weimar/© Candy Welz