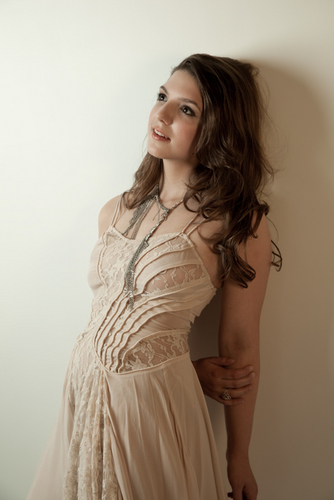 Vocalist Daisy Chute will be performing an exciting and varied programme at the Showcase, here she tells WildKat about her musical background, playing the Gamelan and meeting 'Macca' and Sting at the Classical BRITS.
When did you first start singing?
I recall first singing as a 4 year old girl, performing for my grandparents 'My Baby Does the Hanky Panky' pounding away at their Steinway piano. It was a momentous occasion because from that point onwards I couldn't get away from performing.
In what way did your family encourage you growing up?
Before I had even emerged from my mother, she had unintentionally taught me half of the American Songbook! She took up jazz piano lessons when pregnant with me, and I came out able to sing along to all the songs without knowing how I knew them! My mum and I used to go to jazz concerts all the time especially in Edinburgh (where I grew up) during the Edinburgh Jazz and Blues festival. When I reached ten my parents used to drive me all the way across town so that I could attend St Mary's Music School and sing as a chorister six times a week in the cathedral. So I think you could safely say that they were supportive!
Does anyone else in your family sing or play instruments?
My older brother Jamie plays piano very well and has started to compose too. I've just been helping him with his first composition and it's nice to have something in common. My family is more musical and artistic than your average family – my grandmother was a music teacher and my aunt used to be an opera singer, and though my mother's first love is art she also dabbles in playing the piano and lyric writing. We used to team up when I was younger, until I got to sing with professional pianists, which inevitably led to my poor mum being fired.
Who inspires you musically?
I draw inspiration from so many kinds of music. In particular Renee Fleming, Anne Sofie Von Otter, Brad Mehldau and Rufus Wainwright inspire me as performers who have dabbled in the possibilities of different musical realms colliding. I enjoy the richness of mezzo-sopranos like Joyce DiDonato and Sarah Connolly, the sumptuous writing of composers like Ravel and Saint-Saens, the soulful renderings of jazz singers like Lianne Carroll, the intimate songs of singer-songwriters from Nick Drake to Joni Mitchell and the fiery performances of Latin American music by Teresa Berganza and Omara Portuondo.
What kind of music do you listen to?
The music I listen to ranges from classical singers and composers to jazz artists, and from folk singers and songwriters to roots and world musicians. In particular I love Latin American music and French music from Poulenc to Jacques Brel to Camille.
What embarrassing songs might I find on your iPod?
Oh too many to put them all here! I always was a little bit of an odd one growing up though as I would listen to more Duke Ellington and Shirley Horn than Destiny's Child and other chart music. I remember when I was 8 teaching my pals at school "In a Mountain Greenery" by Rodgers and Hart. Perhaps in an attempt to fit in I did go through some phases of liking boy and girl bands of the 90's (but what 10 year-old didn't?) and a little later of going through that Indie rock phase, liking anything my friends liked. Some of those songs still lurk in the depths of my music collection and come out at inopportune times when I put my iPod on 'shuffle'.
Where would you most like to perform that you haven't already?
Well it would be hard to say no to the Carnegie Hall (the famous American one rather than the one in Dunfermline) or to The Royal Opera House! It is hard to think of one place in particular, but I know I would love to travel the world performing in beautiful old buildings, whether they are grand or wonderfully intimate.
Who would you most like to open for in concert?
That's a tough one! It depends on what I'd be singing. I suppose opening for Anne Sofie Von Otter and Brad Mehldau's jazz/classical collaboration would be fantastic.
If you weren't singing, what would you be doing?
I wouldn't be able to stay away from the creative arts, whether that involves writing, art, drama or design. If I could stick with music but not performance, I would love to compose more and produce albums. I have a good storyline for an opera that one day I will find time to write.
Do you play any instruments?
I've played classical piano and guitar since I was young, and took up other instruments in recent years at SOAS such as Javanese and Balinese Gamelan and the African Kora.
If you could dabble in another genre of music, what would it be?
Well, I already dabble in many types of music as it is – jazz, classical, opera, world, folk, close harmony! But if I was to spread my horizons even further I might try my hand at something completely different like Drum n Bass or other electronic music.
What genre of music can't you stand to listen to?
I'm not a huge fan of some country and western music, or of modern day RnB. There are always exceptions to the rules of course, but generally I wouldn't choose to listen to either of those genres.
How does singing songs you have written yourself differ to singing pre-existing works?
There's an element of fear about singing your own songs; you are being judged for more than one aspect of your performance. But it is in that exposure of something closer to the reality of yourself that you can find the most exhilarating and unforgettable experiences.
Who is the most inspirational singer you have met?
I haven't met many famous singers that I could say have really influenced or inspired me greatly; though it is doubtless that all of those I have met are very good at what they do. If I were to try and pick out a couple of people whose music has inspired me, they would be Sting and Paul McCartney. I met them both at the Classical Brit Awards a few years back when my group All Angels were performing and had been nominated for the same award as Sting and McCartney. Sting mostly kept himself to himself, but McCartney was very complimentary of my singing. They have both written such beautiful songs and I loved hearing Sting's songs in particular recorded with orchestra on his most recent album.
My first singing teacher, Joan Busby, who I studied with on and off from age 9 to 18, was very inspirational in that in addition to her dedication to the craft of vocal teaching, she instilled in me a positive outlook, with her statement that "in the music world, there is room for everyone who wants to be in it".