In today's news: An airline refused to let orchestra on board with instruments. RPS gives support for young musicians totalling £42,000. Original Elgar Manuscript on Antiques Roadshow. Premier trombonists to descend Iowa City. Symphonic flashmob in Berlin. 121 applications for Eisler scholarship in Leipzig. Orchestra of Valencia and Ramón Tebar to give free open air concert. Oliver Knussen – his life.
Classic FM
An airline refused to let this orchestra on board with their instruments – and they protested in the best way
This orchestra – Pokrovsky Opera on Facebook – were travelling from Riga airport in Latvia to Moscow, Russia, when they were stopped at security with their instrument cases.
Rhinegold
RPS gives support for young musicians totalling £42,000
The programme offers a range of support to outstanding instrumentalists, ensembles and composers, including non-repayable grants for students in financial need to afford quality instruments.
Classic FM
Original Elgar manuscript valued at £100,000 on Antiques Roadshow
A woman who appeared on Antiques Roadshow has been sitting on an incredibly valuable musical item: the original drafts and revisions of Elgar's Enigma Variations.
For the first time, the University of Iowa will host the annual International Trombone Festival to bring world-class trombonists together for a special four-day event to celebrate the many facets the trombone has to offer.
Pizzicato
Ng Tian Hui named Music Director of the Pioneer Valley Symphony
The Pioneer Valley Symphony, an orchestra in Greenfield, Massachusetts, has announced as its new musical director 38-year-old Ng Tian Hui.
Frankfurter Allgemeine
Er lehrte die wilden Kerle das Singen
Seine erste Sinfonie schrieb er mit Fünfzehn – und dirigierte sie gleich mit dem London Symphony Orchestra. Jetzt ist der englische Komponist und Dirigent Oliver Knussen gestorben.
Concerti
Die Aktion Symphonic Mob verwandelt am 23. September die Piazza der Mall of Berlin zum Konzertsaal, wenn Laienmusiker auf Profis des Deutschen Symphonie-Orchesters Berlin und des Rundfunkchors Berlin treffen
Musik Heute
121 Bewerbungen für Leipziger Eisler-Stipendium
Für das erstmals ausgeschriebene Hanns-Eisler-Stipendium der Stadt Leipzig haben sich 121 Komponisten angemeldet.
Platea Magazine
La Orquesta de Valencia y Ramón Tebar ofrecen un concierto gratuito en la Playa de Las Arenas
El próximo 13 de julio, a las 22 horas, la Orquesta de Valencia prolongará la celebración de su 30 aniversario con un concierto gratuito al aire libre, en el marco de la Playa de Las Arenas.
Twitter:
It's Waistcoat Wednesday at Classic FM as we salute the style of England manager Gareth Southgate and wish his team all the best for tonight's big game! ⚽ @johnsuchet1 pic.twitter.com/uSiflHLKVd

— Classic FM (@ClassicFM) July 11, 2018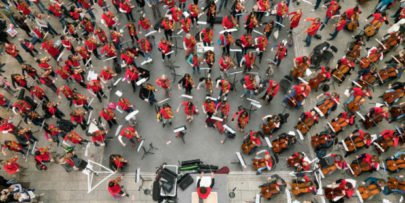 Deutsches Symphonie-Orchester Berlin, Symphonic Mob © Kai Bienert