Classical News
In today's news, the best classical music hoaxes, BBC Ibiza Prom is most downloaded and Birmingham Conservatoire tops student satisfaction ratings. Also, violinist Lynn Blakeslee has died.
The Guardian
Don't believe your ears: the best classical music hoaxes
From the devious aristocrat to the invention of an entire genre, we pick some of classical music's best hoaxes and hoaxers
The Telegraph
'Take that, Mozart': BBC Ibiza Prom is most downloaded
Radio 1's Ibiza Prom is the most downloaded of the Royal Albert Hall concerts so far this year, according to BBC figures
Classical Music Magazine
Birmingham is top conservatoire for student satisfaction
Birmingham Conservatoire has emerged as the best UK conservatoire for overall student satisfaction, scoring 91% for this category in the 2015 National Student Survey results.
DG commits to next Chopin winner
Deutsche Grammophon will release a recording of the winner of the 2015 International Chopin Piano Competition as part of a new partnership with the Fryderyk Chopin Institute.
The Strad
Eastman School violin professor Lynn Blakeslee has died
The US violinist joined the Eastman faculty in New York state in 1987, after 23 years abroad
Die Welt

"Mit diesen Industriehallen muss man kämpfen"
Johan Simons eröffnet seine erste Ruhrtriennale-Saison als Intendant. Ein Gespräch über die Poesie von Kohlenmischhallen, Arbeitslosenquoten als Inspiration und das Gefühl, im Revier zu Hause zu sein.
BR Klassik

"Berlin, wir kommen!"
Dabei sein beim Festival der Jugendorchester der Welt, dem Young Euro Classic in Berlin. Das war der große Traum des ukrainischen Jugendorchesters. Fast wäre er gescheitert, aber dann kam die Rettung per Crowdfunding.
Köln Nachrichten

Beziehungskiste Politik-Verwaltung in der Zerreißprobe
Der Internet-Auftritt der Kölner Oper verkündet noch die Premiere von Berlioz' "Benvenuto Cellini" am 7. November im Opernhaus.An dem Tag wurde die Eröffnung des sanierten Oper-Schauspiel-Ensembles ein Jahr verschoben. Oder noch weiter in die Zukunft?
France Musique

Disparition de Serge Collot, maître français de l'alto
L'altiste Serge Collot est décédé mardi 11 août, à l'âge de 92 ans. Derrière lui, le musicien laisse une carrière splendide et un amour pour les répertoires de son instrument, qu'il a permis de faire évoluer tout au long de sa vie.
San Francisco Classical Voice

S.F. Opera Season Through the Eyes (and Ears) of the Chorus
After the grand adventure of Berlioz' Les Troyens, the sensation of the summer (and SFCV readers agree), the 90-member S.F. Opera Chorus is preparing for the fall season in the War Memorial with fond memories of that "choral opera."
Twitter
Sinfini Music @SinfiniMusic: Composer John Ireland was born on this day in 1879. https://www.youtube.com/watch?v=X7_cpgBitJU …
BBC Proms Team @bbcproms: This evening @BBCPhilharmonic perform Messiaen's monumental Turangalîla Symphony, & @LSChorus sing John Foulds' Three Mantras. Listen 7.30pm
BBC Music Magazine @MusicMagazine: Devastated by death of organist John Scott, erstwhile organist of St Paul's Cathedral and, for the past 10 years, of St Thomas's New York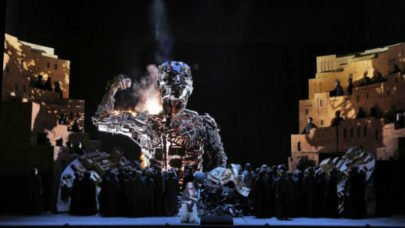 San Francisco Opera
Photo credit: Cory Weaver/San Francisco Opera