Classical News
Telegraph
El Sistema: does reality match the rhetoric?
A new in-depth study paints a negative picture of El Sistema, the Venezuelan programme of musical and social education, devised by José Antonio Abreu, that is now being imitated the world over
Classic FM
Violinist Joo Yeon Sir wins £4,000 Karl Jenkins music performance prize
Violinist Joo Yeon Sir has won £4,000 and the chance to record a piece for broadcast on Classic FM after coming first in The Arts Club Karl JenkinsClassical Music Award last night.
Classical Music Magazine
London Music Pledge: Mayor Boris encourages advocacy for music education
The mayor of London, Boris Johnson, has launched the 'London Music Pledge', which sets out several actions which his administration will take to improve music education in the capital.
Classical Source
Alexei Volodin piano recital postponed, Queen Elizabeth Hall, London, on Wednesday 26 November
From Southbank Centre: "This recital has been postponed from 26 November 2014 to Friday 5 June. It has become more difficult to obtain visas for Russian artists performing in the UK and as such Alexei Volodin has been unable to secure a visa in time for the performance on Wednesday 26 November 2014.
The Strad
Italian violin teacher in critical condition following shooting
Domenico Lombardo was reportedly shot by the mother of a conservatory student
Pizzicato
Der italienische Dirigent Riccardo Muti will nach seiner Trennung von der römischen Oper keine Leitungsfunktion mehr übernehmen.
Klassik.com
Musikverlag Schott verkauft sein historisches Archiv
Bayerische Staatsbibliothek spricht von einem "einmaligen nationalen Kulturgut"
Codex Flores
Renaud Capuçon Leiter der Sommets Musicaux de Gstaad
Die Sommets Musicaux de Gstaad geben die Nominierung des französischen Violinisten Renaud Capuçon zum ihrem neuen künstlerischen Leiter ab 2016 bekannt.
The New York Times
Alex Poots to Be Culture Shed's Artistic Director
The appointment of Mr. Poots, who next September will give up his current positions as artistic director of the Manchester International Festival and of the Park Avenue Armory, was to be announced on Monday evening.
Le Figaro
Le piano de Casablanca devient l'un des plus chers du monde
Lundi, la vente aux enchères intitulée «Rien ne vaut Hollywood» a trouvée un acquéreur pour le célèbre instrument de musique utilisé par Humphrey Bodart et Ingrid Bergman dans le film de Michael Curtiz, acheté à 3,41 millions de dollars.
Twitter
London Sinfonietta ‏@Ldn_Sinfonietta: Uncover more of Birtwistle, one of music's most challenging minds, in our (Un)easy Listening post http://bit.ly/1xK2fKH  #birtwistlebirthday
Intermusica ‏@IntermusicaLtd: Hear Benedict Nelson perform with the @UlsterOrchestra & Christian Lindberg this afternoon live at 2pm on @BBCRadio3 http://ow.ly/ENLyq
Gdn Culture Pros ‏@GdnCulturePros: ICYMI: Arts sponsorship and the slippery issue of ethics http://bit.ly/1tgb5sV  #artsfunding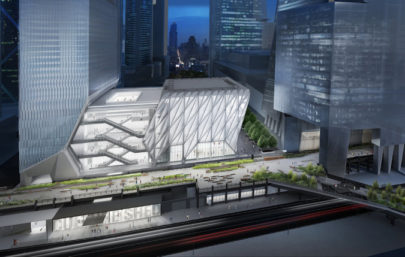 An aerial view of the proposed Culture Shed, which is scheduled to be completed in 2018. The High Line is in the foreground. Photo: Diller Scofidio/Renfro and Rockwell Group