This evening, the Hong Kong Music Series begins with an inaugural concert celebrating the fusion of Eastern and Western classical music at St. John's Smith Square. This is just the first in a series of concerts celebrating the music of Hong Kong and the 20th anniversary of the establishment of the Hong Kong Special Administrative Region. Involving over 70 musicians and creatives from Hong Kong, five concerts will be performed in prestigious venues across central London. The Hong Kong Arts Development Council has overseen the organisation of this music series, and they are keen to share the talent and skill of their home musicians with the UK.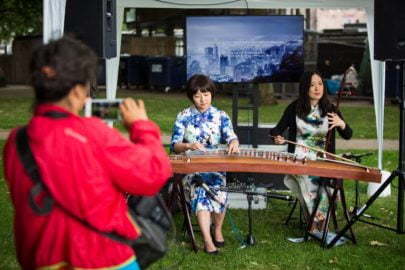 (Photo: Eleonora Cecchini)
WildKat PR assisted with a creative campaign day on London's South Bank to promote the concert series, and engage the public with some of Hong Kong's more traditional music. The day involved live music performances from a local Chinese music ensemble, traditional 'bubble' waffles, and a social media competition to win £100 vouchers from one of the Hong Kong Music Series' main sponsors, Dorsett Hotels . Many passers-by paused to listen to the beautiful sounds of the ehru, guzheng and pipa, having never heard or seen anything like it before! As our team handed out leaflets advertising the concerts in the music series and chatting to people interested in the music and delicious, sweet smells from the bubble waffle stall, we were confident that the Hong Kong Music Series would be a success.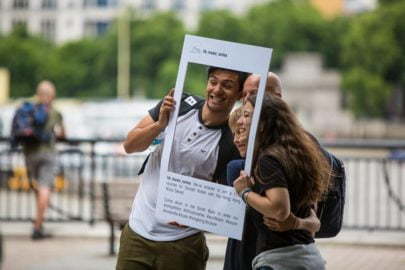 (Photo: Eleonora Cecchini)
The upcoming VIP reception on the 7th of July will see the Hong Kong Arts Development team welcoming esteemed guests from Hong Kong and London to meet the performers of Music Interflow – A Dialogue of Two Cultures. The reception will also feature speeches, anticipating the excitement of the upcoming concerts with their diverse musical genres, ranging from classical music, Chinese music theatre, contemporary music and opera. This first concert will represent both the Chinese and British cultural heritage with a repertoire of both classical and contemporary works. Furthermore, the concert will mark the important anniversary of a momentous historical event in the annals of Hong Kong citizens' close relationship with the British people.
Other intriguing concerts include Beyond the Senses, atmospheric Music Theatre by Law Wing-fai which runs for one show only on the 15th of July at London's Shaw Theatre. Law Wing-fai is one of Hong Kong's leading composers, using the contemporary theatre as a means of expression, revolving around the natural timbres of Chinese musical instruments, poetry, songs, music, dance and visual elements to create an Oriental and reflective atmosphere in this production.
We can't wait to get started, don't forget to let us know if you're at any of the concerts! Click here to find out more about the Hong Kong Music Series.
Click here to follow the HK Music Series on Twitter and here to follow on Facebook.