This summer, the West End stage will welcome a concert production of musical Les Misérables with a cast of musical theatre stars.
Les Misérables is the world's longest running musical and is now in its 34th year in London. But it will be temporarily closing its doors when its current home, the Queen's Theatre, undergoes refurbishment until December 2019. In the meantime, this concert version of the show will be opening at the nearby Gielgud Theatre this summer.
The new concert version of the show will star a cast of West End icons and returning musicians who made their name in this show, including Alfie Boe and Michael Ball.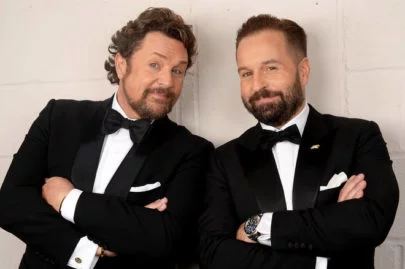 Alfie Boe will take the main role of Jean Valjean, whilst Michael Ball will return to the Les Mis stage as Javert, the justice-seeking inspector who makes it his life's mission to hunt down Jean Valjean. Ball first rose to fame when he played Marius in Les Mis when he was only 23 years old.
The cast also includes Carrie Hope Fletcher. She returns to the musical after playing both young and grown-up Eponine on the West End in 2001 and 2014 respectively. Now, she takes on the taxing role of Fantine who sings the iconic 'I Dreamed a Dream'.
Matt Lucas will play the role of drunken inn-keeper, otherwise known as 'Master of the House', Thénardier.
[via Classic FM]
---
Barbara Hannigan will be the eighth singer and sixteenth conductor to be awarded the prestigious Léonie Sonning Music Prize, which amounts to €100,000.
Previous laureates include Igor Stravinsky (1959), Leonard Bernstein (1965), Benjamin Britten (1968), Dmitri Shostakovich (1973), Miles Davis (1984), Pierre Boulez (1985), Daniel Barenboim (2009), Cecilia Bartoli (2010) and Sir Simon Rattle (2013).
The Léonie Sonning Music Prize 2020 will be presented at a concert on 23 April 2020 at the DR Concert House, which will see Barbara perform as soprano and conductor with the Danish National Symphony Orchestra and Fazil Say. The prize concert is the main event of a mini festival with Barbara Hannigan in focus.
In the meantime, composer Hans Abrahamsen will receive the 2019 prize. Abrahamsen will be presented with the award on 26 April 2019 at DR Concert House during a special concert featuring Barbara Hannigan as the soloist in Abrahamsen's Let me tell you, which Hannigan has championed and performed internationally.
[via Rhinegold]
---
Musiker und Musikerinnen von sieben Berliner Opern- und Sinfonieorchestern wollen mit einem gemeinsamen Konzert ein Zeichen für Vielfalt und Toleranz setzten. Zu dem Auftritt am 24. März wollen Mitglieder der Berliner Philharmoniker, der Staatskapelle Berlin, des Deutschen Symphonie-Orchesters Berlin, des Rundfunk-Sinfonieorchesters Berlin, des Konzerthausorchesters Berlin, des Orchesters der Deutschen Oper Berlin und des Orchesters der Komischen Oper Berlin gemeinsam im Konzerthaus auftreten.
Die Orchester plädierten auf diesem Weg für Respekt und Toleranz, für Vielfalt nicht nur in den eigenen Reihen, sondern in der bundesdeutschen Gesellschaft, teilte die Komische Oper im Namen aller Orchester am Dienstag mit. Unter dem Motto «Unisono für Vielfalt – Konzert für eine offene Gesellschaft» leitet die Dirigentin Marie Jacquot Werke unter anderem von Johannes Brahms, Paul Dukas und Astor Piazzolla.
Musicians from seven Berlin opera and symphony orchestras want to set a mark for diversity and tolerance with a joint concert. Members of the Berliner Philharmoniker, the Staatskapelle Berlin, the Deutsches Symphonie-Orchester Berlin, the Rundfunk-Sinfonieorchester Berlin, the Konzerthausorchester Berlin, the Orchester der Deutschen Oper Berlin and the Komische Oper Berlin will be performing together at the Konzerthaus on 24th March.
via [NMZ]