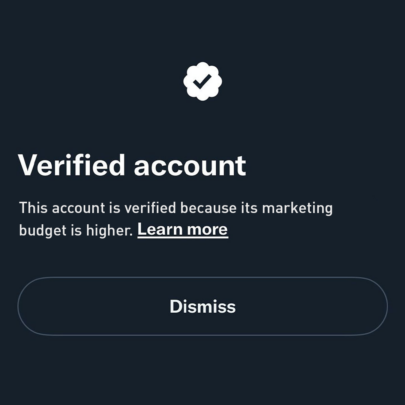 When Twitter Blue was introduced, we saw a few instances of people purchasing a Twitter Blue subscription and impersonating accounts. Mostly, these were for fun and to show a broken feature. However, it also showed the potential for nefarious means, where public figures or customer service accounts could be impersonated and still have a verified badge.
Accounts verified on Twitter for being notable figures even lost their verification badges during this time, showing the verification badge to be nothing more than a symbol of paying for a subscription service.
This verification system has spread to META (Instagram and Facebook), with a similar paid-for verification system implemented in a few select regions for individuals but not businesses, companies or brands (which most of our clients operate as). At present, the same old system of application and proof is used for businesses, companies and brands to get the illustrious blue tick, and so we thought we would include some of our tips to help you on your journey to verification:
Website
If you have a website, including icons that link to your social media accounts is one of the best ways for someone to verify your accounts are legitimate. Most of our clients already have websites, so this is a relatively simple step.
Content
Suppose I'm trying to verify which of two accounts is real, between someone with multiple videos, including performances, promotion of your events and music, etc., or an account with a single post, a generic press shot. In that case, this is usually a good indication of which is the imposter account.
Regular posting
Regular posting is not only good for your overall digital presence but can help people in verifying your correct account. There are many motives behind people creating imposter accounts, but usually, promoting your music and events won't be one of them. As suggested above, keeping relatively active with posts can be a good way for you to be easily identifiable.
Easily identifiable
Having a clear profile picture, a good display name, a suitable username, and a good bio are easy ways for it to be clear to any potential followers which is an actual account.
Similar circles
Following the appropriate accounts and having appropriate followers can indicate whether an account is who they say they are. For example, if individuals within the ensemble follow an ensemble, it is highly likely that the account is correct. We recommend following accounts within your circle and having people within your circle follow you back.
We see impersonation online for classical music, particularly those who will prey on music fans. Cellist Gautier Capuçon puts it very well: https://www.instagram.com/p/CZJI94YonIx/
Those who are particularly well known and impersonated will need to verify who they are and will be forced to pay for this subscription on Twitter, which can be inconvenient at best, especially for those of you who don't particularly like social media but understand the importance of it.
This issue of impersonation links closely with another online danger, which is the spread of misinformation. Verifying whether the online presence of a notable figure is actually the notable figure they claim to be is a problem which may continue to develop with AI. OpenAI CEO Sam Altman called for laws to mitigate 'risks of increasingly powerful' AI in his appearance before the U.S Senate judiciary committee, showing the concerns about the spread of misinformation using AI.
We recommend keeping an eye on how things progress as these new verification systems are implemented over 2023.
And here's our plug: if you'd like to know more about how we can help your business with verification and social media account management, let us know.