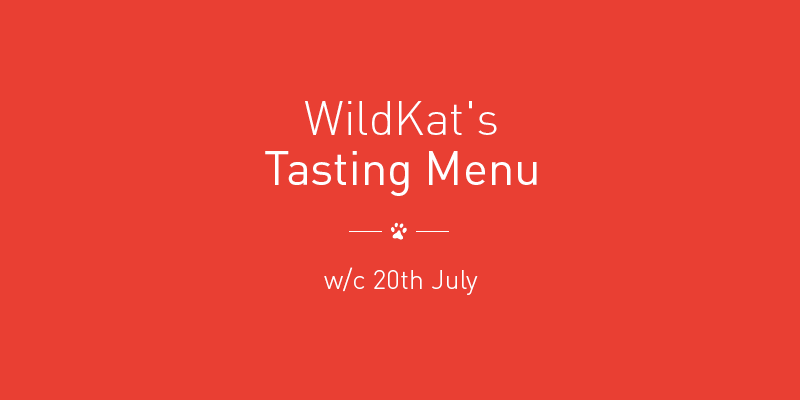 Pairing sound with taste, WildKat is curating a menu of 14 upcoming classical streams accompanied with a specially paired food or drink item, providing a sensory feast of classical treats every week. We are also providing a recommendation from one of our team members of a TV Show, book, or piece of art to stimulate and inspire. Be sure to check back here every week for a fresh new menu, and a brand new recommendation.
This Week's Tasting Menu:
This Week's WildKat Recommendation:
This week, we're recommending some of our favourite podcasts!
Grounded with Louis Theroux
'Stuck at home, Louis is using the lockdown to track down some high-profile people he's been longing to talk to – from all walks of life and on both sides of the Atlantic.'
Table Manners with Jessie Ware
'Jessie Ware hosts a podcast about food, family, and the beautiful art of having a chat, direct from her very own dinner table. With a little bit of help from her chef extraordinaire mum Lennie, each week guests from the worlds of music, culture and politics drop by for a bite and a bit of a natter. Oversharing guaranteed.'
BBC Witness Black History
'Interviews with people who were there at key moments in black and civil rights history'
FT Culture Call
'From pop stars to memoirs, abstraction to athleisure, Lilah Raptopoulos and Griselda Murray Brown get together to make sense of culture today. Lilah's an editor in New York and Gris is in London – join them as they dissect the trends shaping life in the 2020s, interview people breaking new ground and bring you behind the scenes of the Financial Times' award-winning Life & Arts journalism. Come to hear what's new in two cultural capitals; stay for compelling interviews that aren't afraid to go deep. You'll laugh, you'll cry, you'll take notes. New episodes every two weeks. Subscribe on Apple, Spotify, Stitcher or wherever you listen.'
Dolly Parton's America
'In this intensely divided moment, one of the few things everyone still seems to agree on is Dolly Parton—but why? That simple question leads to a deeply personal, historical, and musical rethinking of one of America's great icons. Join us for a 9-part journey into the Dollyverse.
Hosted by Jad Abumrad, creator of Radiolab and More Perfect. Produced and reported by Shima Oliaee.'
Radio 4 Desert Island Discs with Ian Wright
'Eight tracks, a book and a luxury: what would you take to a desert island? Guests share the soundtrack of their lives.'
On Being
'The On Being Project is a nonprofit media and public life initiative. We make a public radio show, podcasts, and tools for the art of living. Six grounding virtues guide everything we do. We explore the intersection of spiritual inquiry, science, social healing, community, poetry, and the arts. We're offering ongoing special content for this moment, including "care packages" for care givers and uncertain times, and a starting point for the exhausted and overwhelmed.'
Sewanee Review Podcast
'Welcome to the Sewanee Review Podcast. New episodes are posted monthly on the SR website. You can also listen and subscribe on Apple Podcasts and Spotify.'
How To Fail With Elizabeth Day
'How To Fail With Elizabeth Day is a podcast that celebrates the things that haven't gone right. Every week, a new interviewee explores what their failures taught them about how to succeed better.'
New Yorker Fiction
'A monthly reading and conversation with the New Yorker fiction editor Deborah Treisman.'
Oprah's SuperSoul Conversations
'Awaken, discover and connect to the deeper meaning of the world around you with SuperSoul. Hear Oprah's personal selection of her interviews with thought-leaders, best-selling authors, spiritual luminaries, as well as health and wellness experts. All designed to light you up, guide you through life's big questions and help bring you one step closer to your best self.'
You're Wrong About
'Mike and Sarah are journalists obsessed with the past. Every week they reconsider a person or event that's been miscast in the public imagination.'
On the Media
'While maintaining the civility and fairness that are the hallmarks of public radio, OTM tackles sticky issues with a frankness and transparency that has built trust with over one million weekly radio and podcast listeners. OTM can be heard weekly on more than 400 stations and has a biweekly podcast. It has won the Edward R. Murrow Awards for feature reporting and investigative reporting, the National Press Club's Arthur Rowse Award for Press Criticism, it is the only back-to-back winner of the Bart Richards award for media criticism, it is the winner of several Mirror Awards, and it has a Peabody Award for its body of work.'
Here's the Thing
'Award-winning actor Alec Baldwin gives the listener unique entrée into the lives of artists, policy makers and performers.
Alec sidesteps the predictable by taking listeners inside the dressing rooms, apartments, and offices of people such as comedian Chris Rock, political strategist Ed Rollins and Oscar winner Michael Douglas. Alec pursues great conversations in unexpected places to find out what motivates his guests, how they feel about what they do and what keeps them up at night. Here's The Thing: Listen to what happens when a man you think you know surprises you.
Here's the Thing has its roots in public radio. In 2009, Alec joined with producers Lu Olkowski, Trey Kay, Kathie Russo, and Emily Botein to find fresh ways to engage in conversation on the radio. The group developed the idea of a new show that at its heart would look at what makes interesting people tick and create a platform for new and emerging ideas to be presented.'
NYT's The Daily
'This is how the news should sound. Twenty minutes a day, five days a week, hosted by Michael Barbaro and powered by New York Times journalism.'